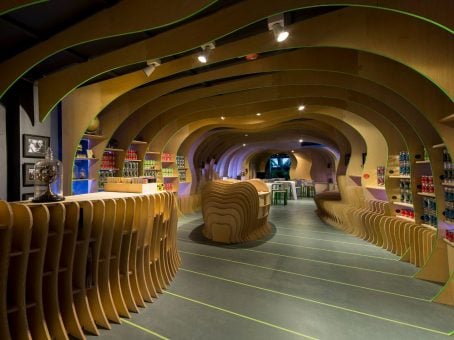 Donate to make a difference & dedicate a rib!
Wooden ribs frame our creative writing centre in Redfern (pictured) like the skeleton of a mythical creature or the interior of a spaceship, lending the space its magical quality. Support our young writers and endorse our impact Strategy by dedicating one of these ribs for a fully tax-deductible donation of $1,000.
We'll acknowledge your generosity with a plaque on the rib for 12 months. The plaque can be named for you, or dedicated to someone else such as your children, parents or team. Our goal is to have all 50 ribs dedicated before our strategy kicks into high gear in March 2023.
Story Factory has worked with more than 40,000 young people in under-resourced communities, firing their imaginations, building their literacy and expanding their future prospects. Our programs are needed now more than ever. Young people in under-resourced communities are, on average, more than three years behind their more advantaged peers in all literacy categories – a gap that has been exacerbated by the COVID pandemic and the resulting disruptions to education.
Our five-year strategy from 2023-2027 lays out our ambitious plans to have greater impact, and support more young people, than ever before. 
However ambitious plans require ambitious funding. We need your help to make this strategy a reality.
If you have any questions about dedicating a rib, please don't hesitate to email our Grants & Strategy Manager Ruth Friedlaender: fundraising@storyfactory.org.au
With thanks for the following rib donors and/or dedications:
Doowlluf … who loves; The Balnaves Foundation; Ava, Sia & Nate Lovett; The Haus; Julia Ritchie; Gemma Salteri; Mike, Kerry, Alex and Charlotte Gonski; Ken Seale – teacher (1928-2018); Deena Shiff & James Gillespie; In Memory of Ken Coles; L & E Venegas; Kim Anderson; Osborne family; Max Oswald; Richard Unsworth; Stacey Wang and Kee Wong; The O'Driscoll Family; Priscilla Adey; Fleur, Archer, Jock & Harriet; Masterpiece Pictures Pty Ltd; Dana Stoll; Mary and Laurence Haines; Vine Foundation; Doctors Bronwyn Gould and Ian Portekl Wendy Fitzgerald; Willa Hutchinson; Archie Hutchinson; Gladys Skipton; Pantera Press Foundation; mfayd; Emme and Callum – who love reading; Matthew Westwood; Hyde Family; Milo Minderbinder.