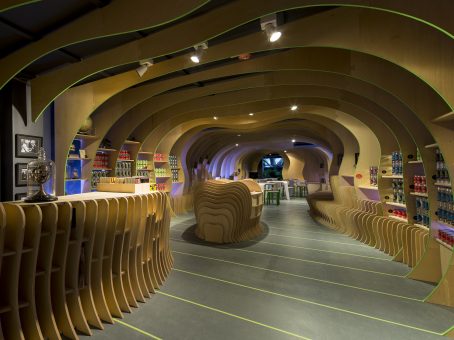 Donate to name your rib today!
Since opening in 2012, Story Factory has worked with more than 40,000 young people in under-resourced communities, firing their imaginations, building their literacy and expanding their future prospects.
Wooden ribs frame our creative writing centre in Redfern like the skeleton of a mythical creature or the interior of a spaceship, lending the space its magical quality. Support Story Factory by naming one of these ribs for $1,000 fully tax deductible. The rib will feature your name for 12 months, acknowledging your generous contribution to securing the future of Story Factory.
Our programs are needed now more than ever. Young people in under-resourced communities are, on average, more than three years behind their more advantaged peers in all literacy categories – a gap that has been exacerbated by the COVID pandemic and the resulting unprecedented disruptions to education.
Story Factory's life-changing creative writing programs are designed by experts to help young people bridge this gap and find their voice. Our five-year strategy from 2023-2027 lays out our ambitious plans to have greater impact, and support more young people, than ever before. However ambitious plans require ambitious funding. We need your help to make this strategy a reality.
Your donation will make it possible for us to implement our innovative five-year strategy and support tens of thousands more young people to write themselves brighter futures.
If you have any questions, please don't hesitate to email our Development Manager Lachlan Snow: Lachlan@storyfactory.org.au