Story Factory | Stories | Big Projects | Art Write Light | Art Write Light 2021 | Another Dry Outback Summer
Another Dry Outback Summer
By Edwin, Stage 5
Art Write Light 2021 is a  creative writing project curated by Story Factory, in collaboration with visual artist Blak Douglas. During the program, students from Bonnyrigg High School and St Clair High School were introduced to the work of Blak Douglas, and created written and audio pieces responding to his artwork. The audio you're about to listen to features a young writer from the program reading an extract from their work.
LISTEN TO THE AUDIO OF THE STORY
Another Dry Outback Summer
Chapped lips smacked as the scorching heat seared the surface. Cold ones cracked open, offering the townsfolk relief from the dry dusty climate of the outback. 
Monologue

He shoves me onto the filthy floor of the confined, concrete cell, my clothes fall out of my hands onto the dust and rat faeces that covered the ground. I get back up on my feet and pick up the clothes, wiping the dust off the blue jumpsuit the guards demandingly forced upon me. The door slams shut, locking me inside, isolated from the rest of the world. There's a small square window inside of the room. I glance outside to see grey clouds, no sun in sight, only the gloomy desolate space of this concrete jungle. The speakers begin to play a loud message demanding everyone to the courtyard immediately. 
Hundreds of men, all with the same uniform and shaved head as me are forced into formation, making up lines that stretch as far as a few hundred men. All sat there in the dull courtyard with a dead, blank expression on their face, awaiting further instructions from the guards who were walking up and down the hundred meter lines with their baton in hand. All guards had their pistol in their holster, ready to be pulled out and fired upon anyone dumb enough to have pissed one of 'em off. They all bore the same shiny badge on the side of their arms, with the badge being that of a large yellow star surrounded by four smaller ones, all encapsulated inside a red rectangle canvas. The yellow star and red backdrop of their nation's flag, a symbolism of their devotion to their mighty nation, as well as their hatred towards my people and culture. The persecution had begun months ago, one by one, people started disappearing and soon the streets echoed with silence. No more were there the aroma of robust spices and the sounds of prayers that filled up the sky. What's left is the husk of what was once a populous region that was filled with my people's culture and religion. Now, I sit here in this empty cell, chained to this bleak environment praying to Allah that one day, my people be freed from the tyrant hands of this unruly regime.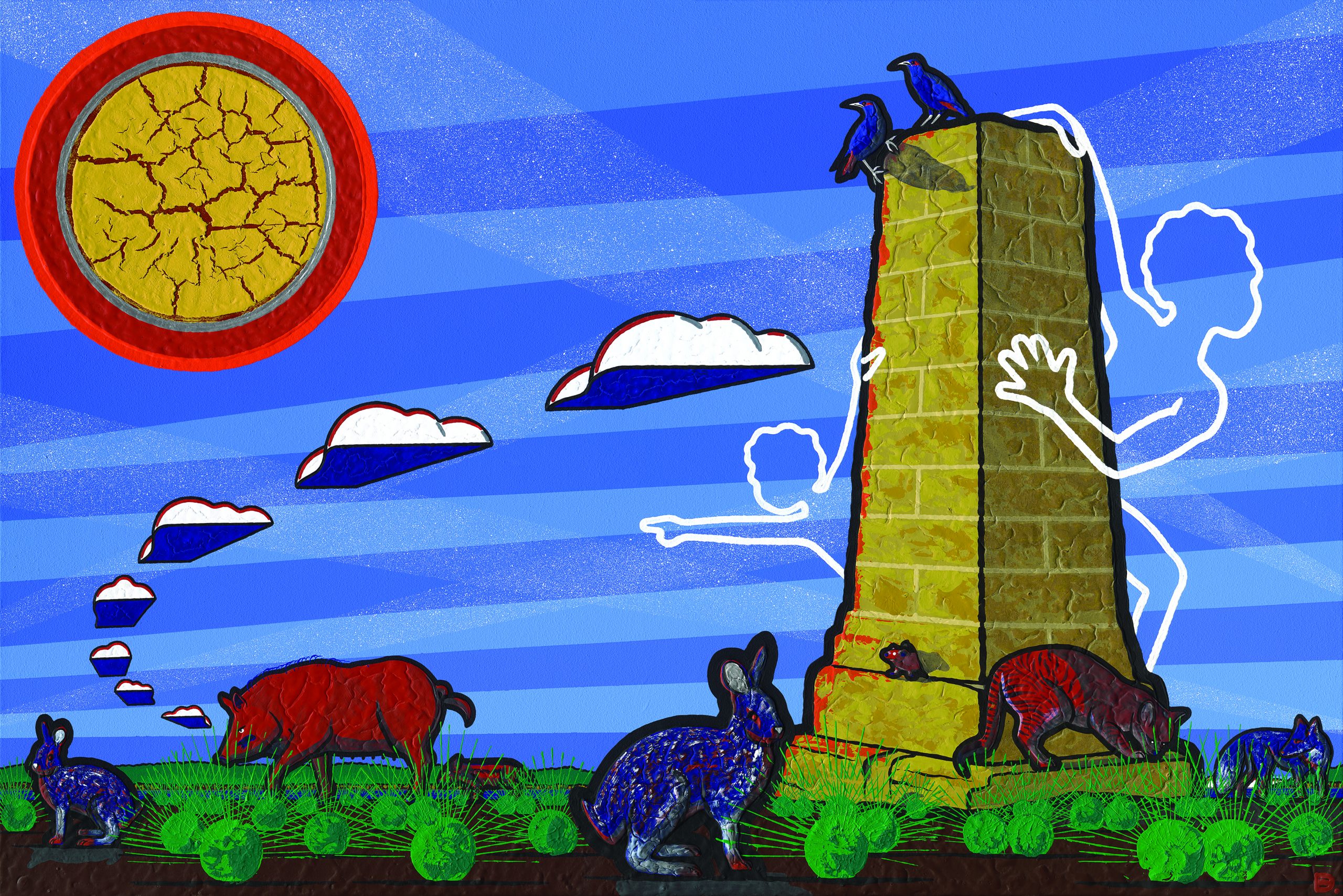 Much is Rife, Blak Douglas, 2021
Art Write Light is generously supported by the Balnaves Foundation.