Story Factory | Stories | Big Projects | Art Write Light | Art Write Light 2021 | Gone But Not Forgotten
Gone But Not Forgotten
By Kimberley, Stage 5
Art Write Light 2021 is a  creative writing project curated by Story Factory, in collaboration with visual artist Blak Douglas. During the program, students from Bonnyrigg High School and St Clair High School were introduced to the work of Blak Douglas, and created written and audio pieces responding to his artwork. The audio you're about to listen to features a young writer from the program reading an extract from their work.
LISTEN TO THE AUDIO OF THE STORY
Gone But Not Forgotten
The sun shone down on the cold cobbled stone. If you listened closely, you'd hear the voices of those whose homes were taken from them. 
Monologue
I woke up with my back aching because I slept in an uncomfortable position on the couch. Martha had put the kettle on the stove which woke me up from my deep sleep. The kids had already left for school which was a relief. I had a massive headache from the fight I had with Martha the night earlier. I climbed off the couch and poured myself a cup of hot coffee, then took it outside onto the porch. Every morning I decided to sit outside and make use of all the land we bought. I had a choice of buying from 3 farmlands. However, one stuck out to me the most. There was a large monument located right in the centre of the land. It was quite old and covered with moss and bushes with little critters crawling around. After admiring this monument for months, I noticed that the sun will only shine on the monument at 8:00 am every morning. It could be a 40°C day and it will only shine on the monument at that time. I've been told by neighbours that I should get rid of it to make room for more crops but I think it's special.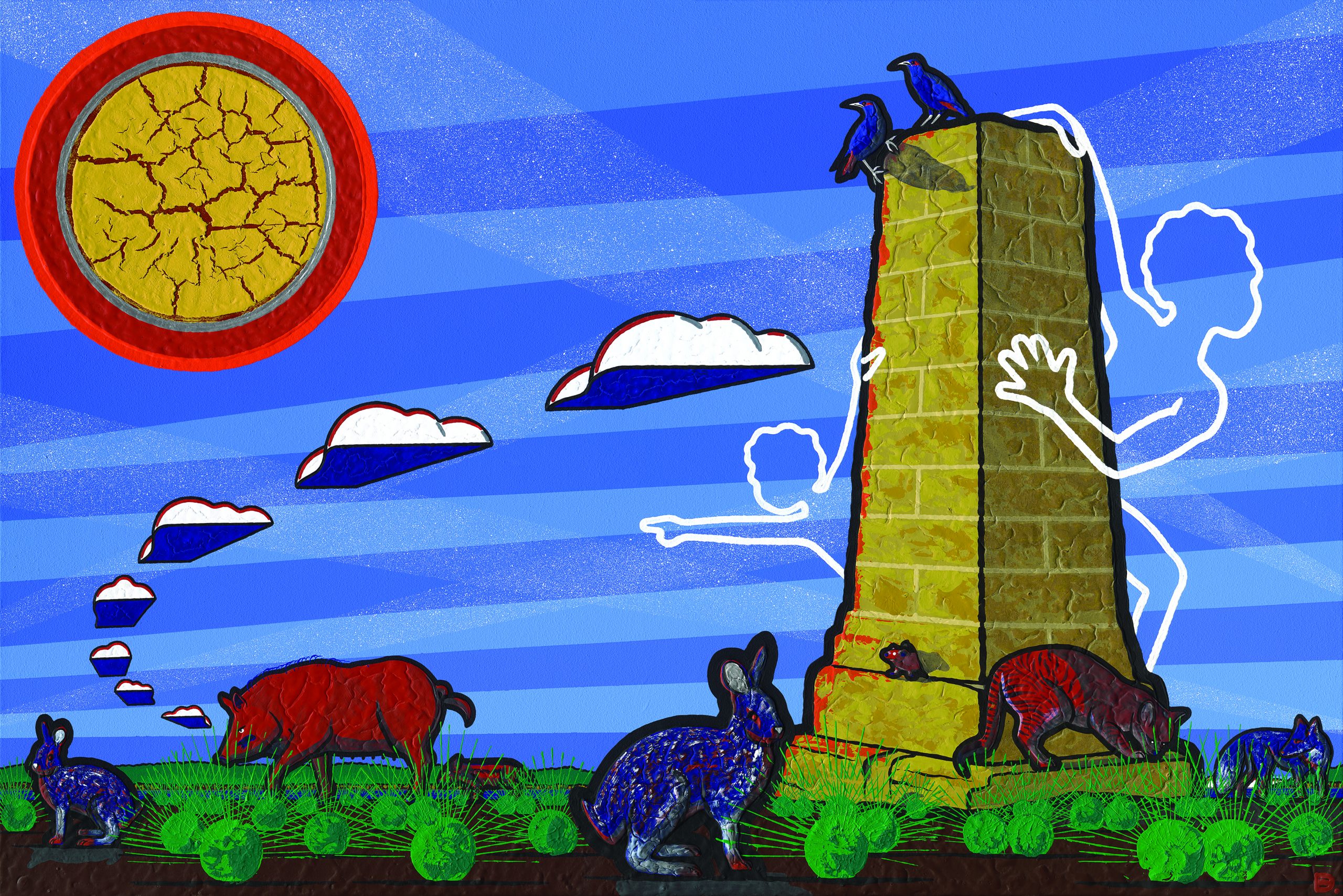 Much is Rife, Blak Douglas, 2021
Art Write Light is generously supported by the Balnaves Foundation.