Story Factory | Stories | Special Projects | Art Write Light | Art Write Light 2021 | Monologue
Monologue
By Kimberly, Stage 5
Art Write Light 2021 is a  creative writing project curated by Story Factory, in collaboration with visual artist Blak Douglas. During the program, students from Bonnyrigg High School and St Clair High School were introduced to the work of Blak Douglas, and created written and audio pieces responding to his artwork.
Monologue
I woke up in what looked like a storage room, but unlike the ones on the ship, it was very bright with the sun shining through the crack in the blinds. Luckily I was alone, in this foreign environment. I wouldn't be able to stand it if I was stuck in this room with someone else. Okay, now how do I get out of here? The last thing I remember was going to sleep on the ship. This room was filled with textbooks and different pens and pencils, in the midst of looking around the room, I noticed the clouds outside the window. Crows were crackling on the windows and looking at me directly in the eye. Then something caught my eye, a blue key on the floor right underneath the door. The sun was now shining directly onto this key which felt like it was a sign from the universe to pick it up. I unlocked the door and crept into the room that looked like a classroom. All the people were staring at the wall with sandstone projected on it. The people's faces then turned away from the page and turned to the sight of my shadow. They all stared at me as if I was an animal, like a dog barking or a horse neighing for attention. 
"Why won't you talk to me?" She screamed, her screeching is affecting me. She imprinted the marks around my neck, the words are stinging against my skin, her threads keep me in line. She's begun calling me meaningless, empty words, she doesn't dare touch me, why? I'll take it upon myself to give myself the release. I need the release, but she won't leave the agony on my skin, I'll let it pour out of my body. I should've been grateful, I should have listened, I deserve every part of pain she gives me. I've become reliant on her torture, she gives me marks on my body, she hugs me after in an attempt for me to forgive her, and I do. The walls of the house relapsing the memories in my head. I've had enough, but I have nowhere to go. No place of belonging, no place of home. 
Why does she feel sympathy for me when she caused my pain, my sorrow, I've come to resent her the question of the past comes bubbling back 'Why do you hate her?" I agree, I should forgive her, she gave me life and food as well as shelter, she lets nothing hurt me, or does she? She's the only one that brings me pain. She makes my life difficult to live, as if I'm suffocating or being buried alive under massive amounts of dirt that enters my lungs, it's difficult to breathe, I could reach for air but I know she'll only take away more that is dear to me. I can't walk to escape this cage, this prison built around me.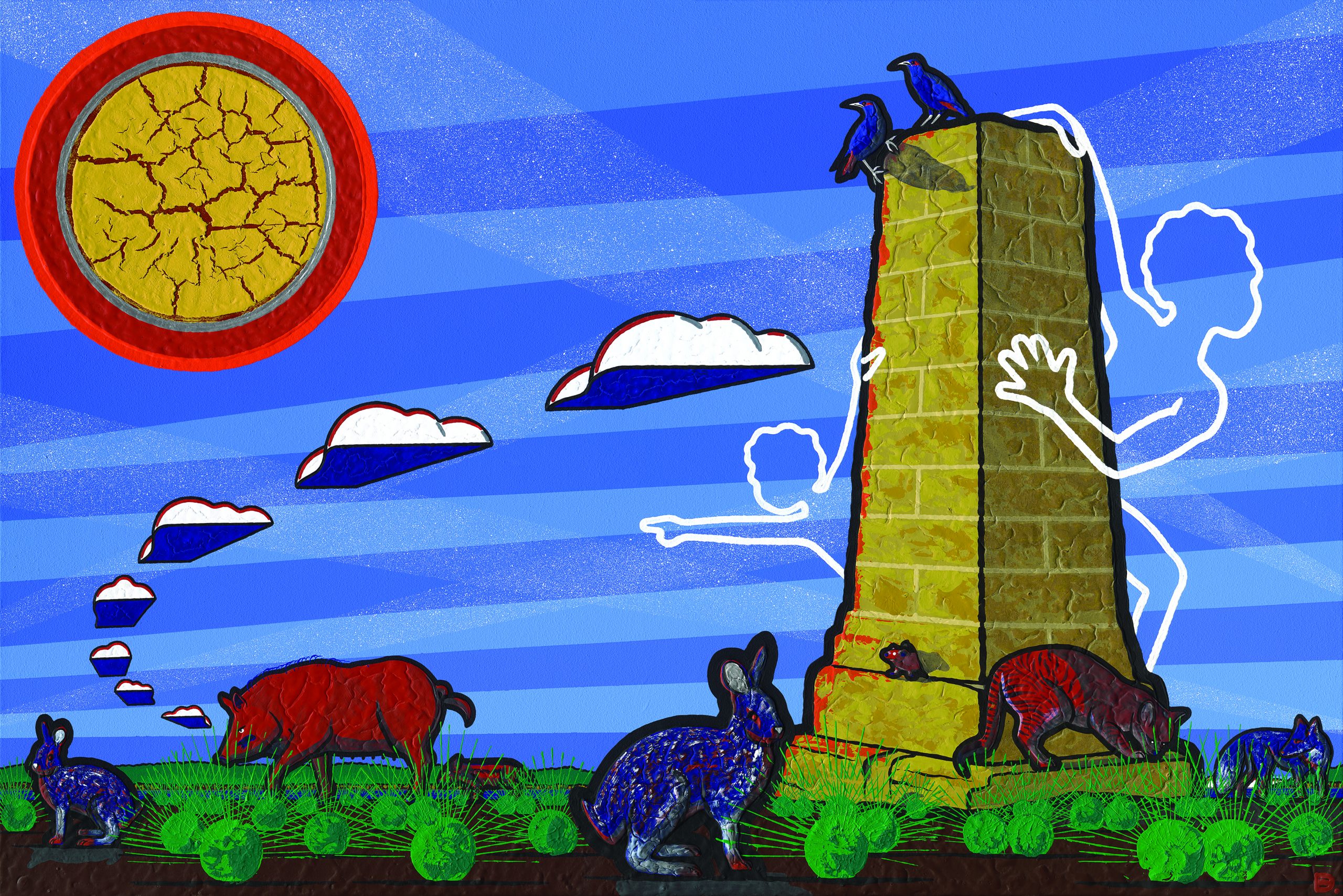 Much is Rife, Blak Douglas, 2021
Art Write Light is generously supported by the Balnaves Foundation.