Story Factory | Stories | Special Projects | Art Write Light | Art Write Light 2021 | Noises Outside Disappeared
Noises Outside Disappeared
By Emilie, Stage 5
Art Write Light 2021 is a  creative writing project curated by Story Factory, in collaboration with visual artist Blak Douglas. During the program, students from Bonnyrigg High School and St Clair High School were introduced to the work of Blak Douglas, and created written and audio pieces responding to his artwork. The audio you're about to listen to features a young writer from the program reading an extract from their work.
LISTEN TO THE AUDIO OF THE STORY
Noises Outside Disappeared
I step outside and I hear whistles, the clouds swoosh. I step inside, I hear boom. I step outside, no whistles. Where did they go?
Monologue – Words Unspoken
As I look outside the window, I see a land restored and my friends and family, the people I have lost. They were almost transparent. As my day dream is broken by my phone buzzing, I don't bother looking at it. When I look inside: it's full of technology and electronics. I see a world I never wanted. As I think to myself 'why? Why was I imprisoned in a life I didn't get a decision in? A life I never wanted.' 
I look at the only thing that reminds me of home, a reminder of the one person that feels like home. The spear in the corner, it belonged to my dad. He gave it to me before he died. I still get the flashbacks at night. It breaks me every time, watching my world perish around me time after time. Just the thought of it makes a tear roll down my face and on to my phone. I look down and see the notification. It's the calendar. My face drops as I read 'Dad's birthday'. Another tear hits my phone as I break down. My thoughts wander… to hear his laugh, to see his smile again, if I knew it would have been the last time I hugged him I would have never let go. I'm thinking of all the things we didn't get to say. I would give anything to see him again. I have pictures but it's not the same, he was my hope, my Sun, and I know it's nearly been a year but it still hurts. Now I'm falling and I don't think I'll ever stop. My thoughts stop as I'm lost and drowning in my own tears. 
I try to distract myself by going on my phone. I go on Facebook and there's a memory that pops up. A photo of, 'sigh', my dad. It was from a year ago today. I'm lost.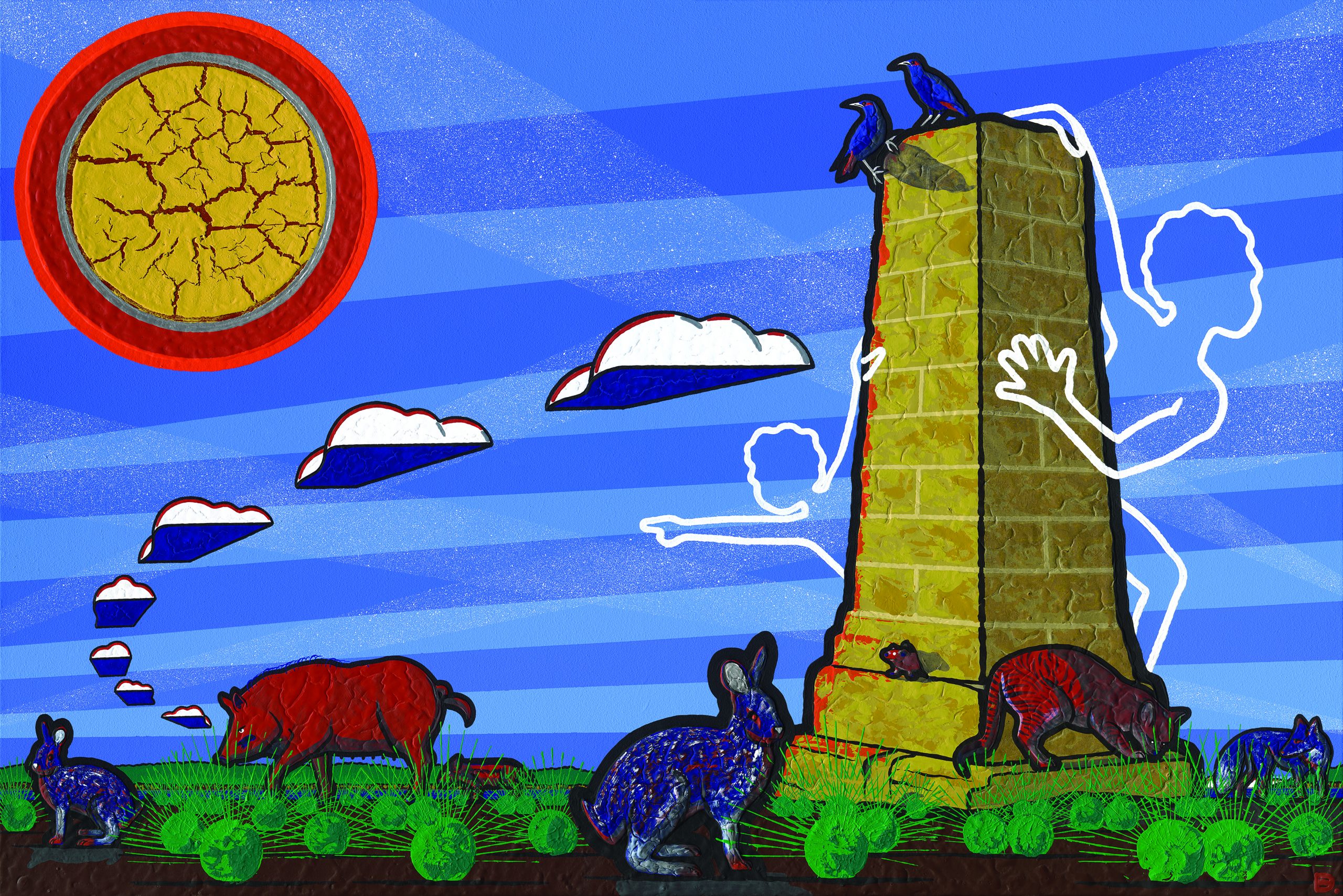 Much is Rife, Blak Douglas, 2021
Art Write Light is generously supported by the Balnaves Foundation.