Story Factory | Stories | Big Projects | Art Write Light | Art Write Light 2021 | The Outback Mining
The Outback Mining
By Thomas, Stage 5
Art Write Light 2021 is a  creative writing project curated by Story Factory, in collaboration with visual artist Blak Douglas. During the program, students from Bonnyrigg High School and St Clair High School were introduced to the work of Blak Douglas, and created written and audio pieces responding to his artwork. The audio you're about to listen to features a young writer from the program reading an extract from their work.
LISTEN TO THE AUDIO OF THE STORY
The Outback Mining
One day there were two best friends. They got a spot and started to dig and dig until something caught their eye. They picked it up and it was opal. 
Monologue
I walked into the clean bedroom, stepping on the rug that covers the creaky wood plank floor, to hear a creepy old voice that said "Hello… is anyone in here?" I panic and run down the hallway screaming, "Mum! Mum! I think I heard a noise coming from the radio!"
"Don't worry, I promise there's nothing there," mum said as I'm still jumping in fear. "If you're that scared, I'll walk into the room with you." We walk down the hallway, I'm behind mum, and we walk into the room.
"Mum! Mum!" I ran out screaming. "That doll wasn't placed there when I was in here before!" I flee the house and ran down the stairs, tripped and fell. I scraped my knee and called my friends. "Yo yo, the weirdest thing just happened. Meet me at the park."
I met some of my friends at the park and I explained to them what happened. Dylan suggested we visit the haunted house to visit the dead woman's grave just around the back. We approached the gate and so I looked through the cracked fence and saw the doll staring at us…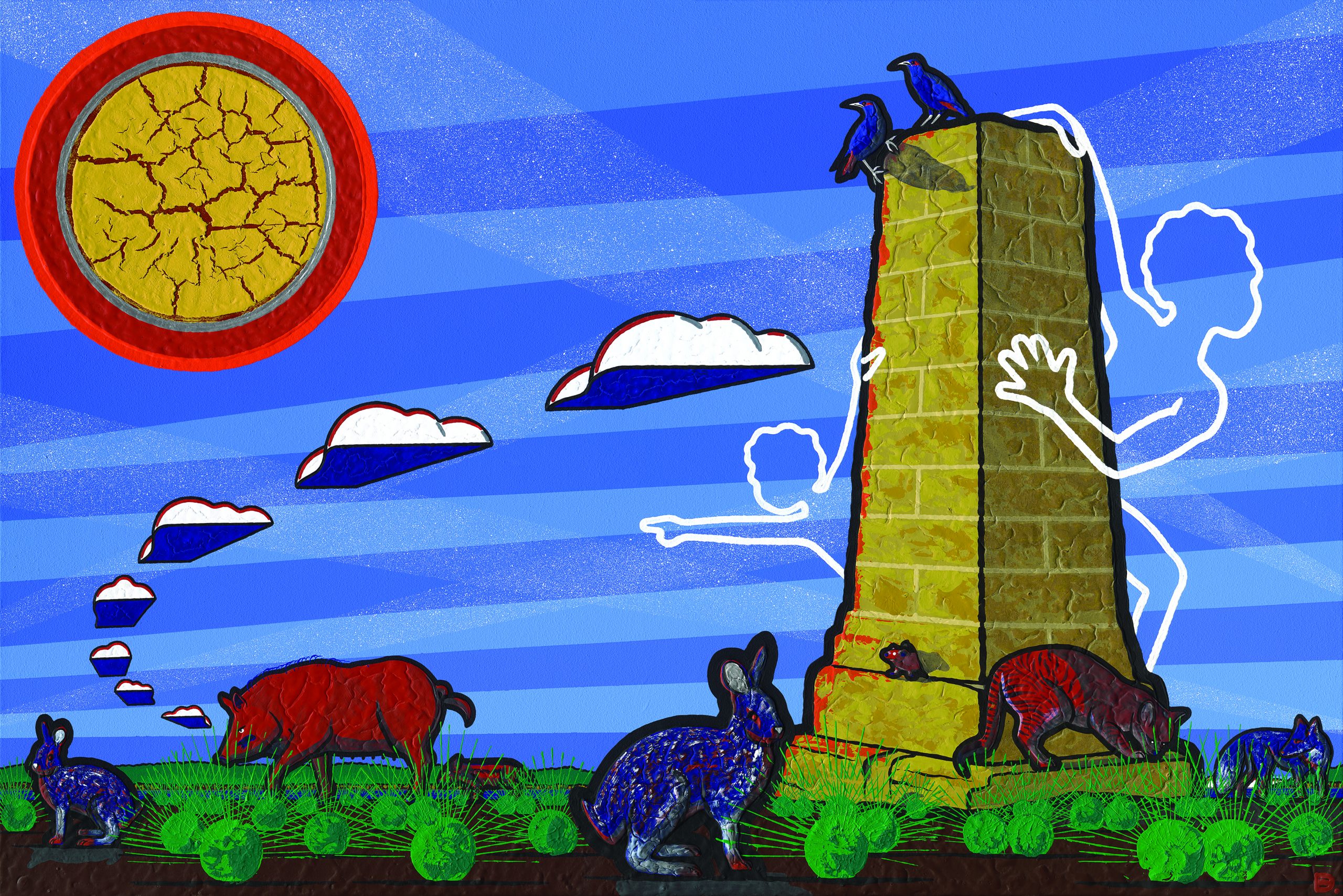 Much is Rife, Blak Douglas, 2021
Art Write Light is generously supported by the Balnaves Foundation.