Story Factory | Stories | Special Projects | Art Write Light | Art Write Light 2021 | The Water from The Sky
The Water from The Sky
By Siaosi, Stage 5
Art Write Light 2021 is a  creative writing project curated by Story Factory, in collaboration with visual artist Blak Douglas. During the program, students from Bonnyrigg High School and St Clair High School were introduced to the work of Blak Douglas, and created written and audio pieces responding to his artwork.
The Water from The Sky
The water from the sky fell down. The rabbits hop back to their homes. The land was rich with water. The ground felt like foam. 
Monologue 
I am an Aborigine. People these days take Indigenous people as a joke. People always say stuff like "Australia belongs to no culture" without knowing that Russia belongs to Russians, China belongs to Chinese leaders and Korea belongs to Korean leaders.
My point is that I have something to say. Let me ask you this, how much would someone have to pay you for you to give up a loved one? None, right? Well this is what happened to Indigenous people with the stolen generation. Over 200 years ago, a genocide was committed against Indigenous people. Indigenous people from left to right were killed and now only a few remain. The sad part is the culture has been killed off so much that even the traditional custodians of the land have a blurry vision of their culture, especially Torres Strait Islanders. Torres Strait Islanders have been killed off so badly that no one knows how to write in their language anymore but also the government hides all these facts and replaces it with "Captain Cook, the first man to find Australia" and "The expedition to Sydney Harbour". You may argue that only children were stolen although that's not all that happened. Stealing children is beyond evil!!!
There is still lots to cover but my main point is, if you're gonna stay in Australia, at least give us proper, and keyword PROPER, recognition.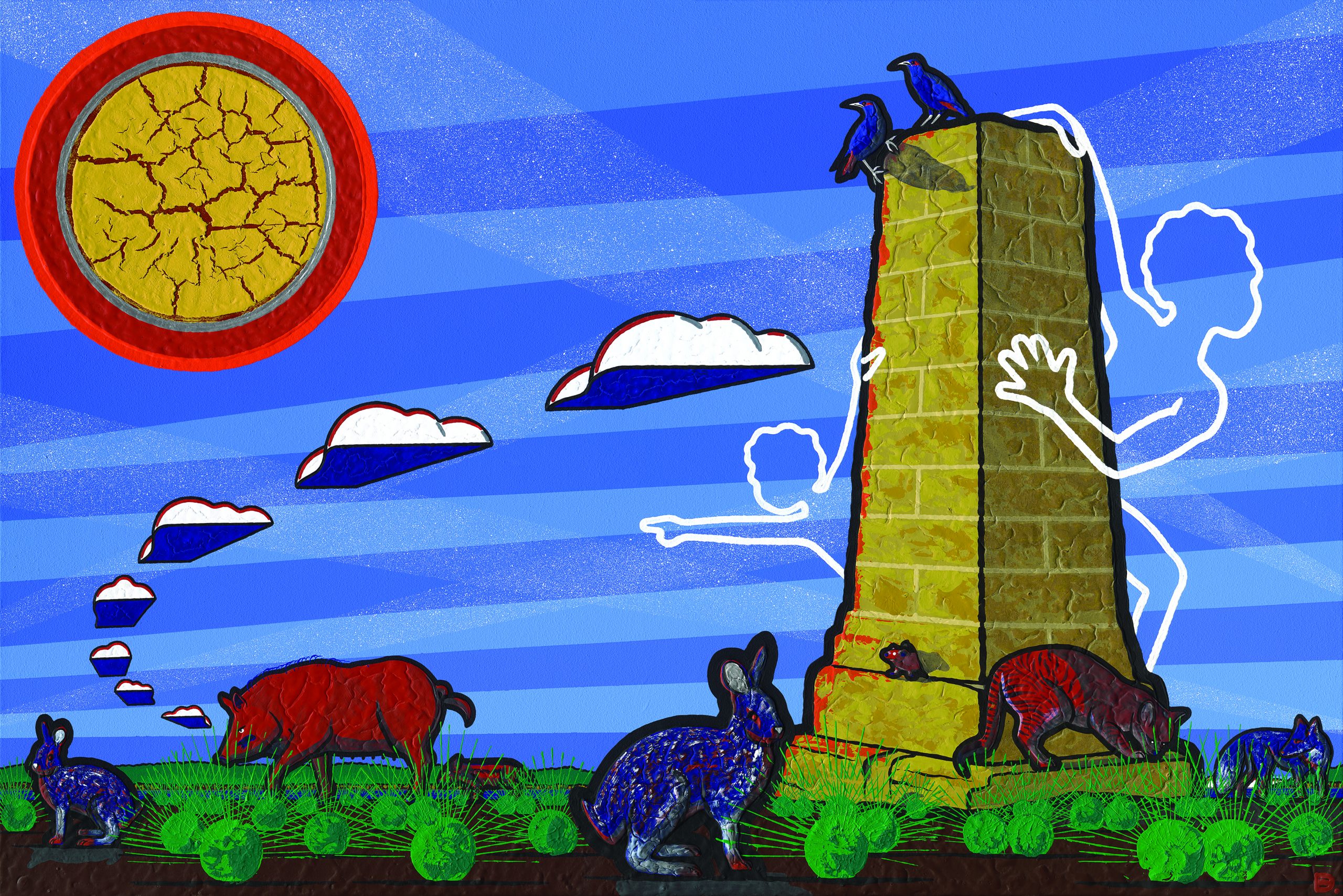 Much is Rife, Blak Douglas, 2021
Art Write Light is generously supported by the Balnaves Foundation.