Story Factory | Stories | Big Projects | Art Write Light | Art Write Light 2021 | The Whine of The Dead
The Whine of The Dead
By Osam, Stage 5
Art Write Light 2021 is a  creative writing project curated by Story Factory, in collaboration with visual artist Blak Douglas. During the program, students from Bonnyrigg High School and St Clair High School were introduced to the work of Blak Douglas, and created written and audio pieces responding to his artwork. The audio you're about to listen to features a young writer from the program reading an extract from their work.
LISTEN TO THE AUDIO OF THE STORY
The Whine of The Dead
As she sat down in front of the large grave. She closed her eyes and listened closely to the voices of her splattered, pained blood. 
Monologue
I stood up and gently took my ceramic mug of cold tea contents. I turned it over to it's side and watched the liquid rush to the floor. I made a mess again, looking around the floor at old sputters and stains, it would be hard to remove but for them it was easier than telling. I exited my room and went into the small kitchen, fitted for an animal the size of an ant. I opened up the water tap and stared at it, it never stopped, even if I lived here my whole life I still am mesmerised by it every time. I forced myself back to reality as I refilled the kettle and placed it back on its stand. I'm not one for new methods but this building lacks green and blue. I clicked the machine's button and waited till the water bubbled and it's temperature rose, much like the sun. 
The numbness and fury swirled themselves around me as there was nothing left but the memories I hold on to. I remember my past, playing with the neighbours kids around the sandstones of our mothers' land, we'd play till it was dark and our shadows grew. Then, we would gather and feast on the animals hunted by our fathers. I stepped back out of reality, to the same white modern room, watching outside the same arched window. The endless cycle repeats as I watch the happy children and families playing outside. Even if they were aware of our reality, they wouldn't care. For them, living in the same houses in the same neighbourhoods with towering glass buildings shadowing over our precious trees was far more important to them than our culture and traditions. To them, we are nothing but aesthetics, paintings and people of the past.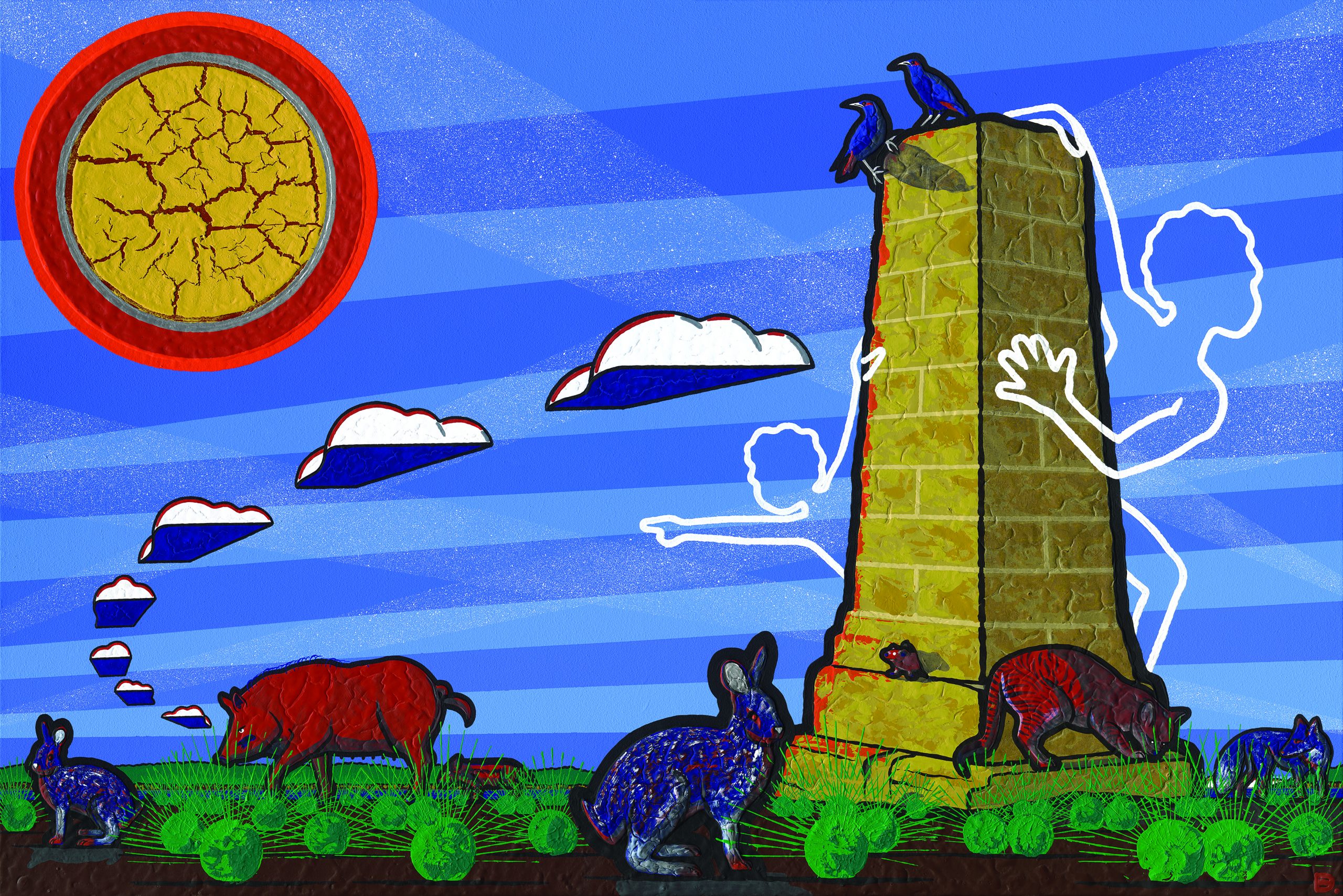 Much is Rife, Blak Douglas, 2021
Art Write Light is generously supported by the Balnaves Foundation.