Story Factory | Stories | Special Projects | Art Write Light | Art Write Light 2021 | Untitled
Untitled
By Ava, Stage 5
Art Write Light 2021 is a  creative writing project curated by Story Factory, in collaboration with visual artist Blak Douglas. During the program, students from Bonnyrigg High School and St Clair High School were introduced to the work of Blak Douglas, and created written and audio pieces responding to his artwork. The audio you're about to listen to features a young writer from the program reading an extract from their work.
LISTEN TO THE AUDIO OF THE STORY
Untitled
I heard rustling in the distance, animals were quickly scurrying away. I glanced over, only to see the animals were petrified. Then there was silence. 
Monologue
Blinded, blinded by the bright white light. I slowly lifted my heavy eyelids only to see a catheter to one side of me. I sit up to see a teddy bear on the other side of me. It was holding a card and said 'Get Well Soon!' I realised I was in a hospital. 
I hate hospitals.
I slowly stood up and looked towards a window. I saw wilderness, animals and colour. But something else popped out: two figures singing and dancing. They were transparent like a piece of them was missing, like they were surrounded by colour but they had lost theirs. I look up to the sky and see the Sun. Something was wrong, it was cracking! I had so many questions like: Is this why the people lost their colour? Why does it feel like I know them? Why am I here?
I slowly back away from the window, still questioning, well, everything. When I finally pulled away from the window, it felt almost like my soul dropped back to my body. I had changed dimensions. I shook off my strange emotions and heard muffled voices. Was I going crazy? 
I had to investigate my surroundings so I sneakily stepped outside my room, I grabbed my teddy bear and left. The voices got louder. I was walking past closed doors. I felt so close to the voices, the voices that sounded so familiar. I quickly turned the corner. Nothing, nothing was there. I felt angry and discouraged but then I squished my bear. I felt hope, a slight hope. 
I turned back around the corner. BAAM! All of the hospital rooms that were once closed swung open rapidly.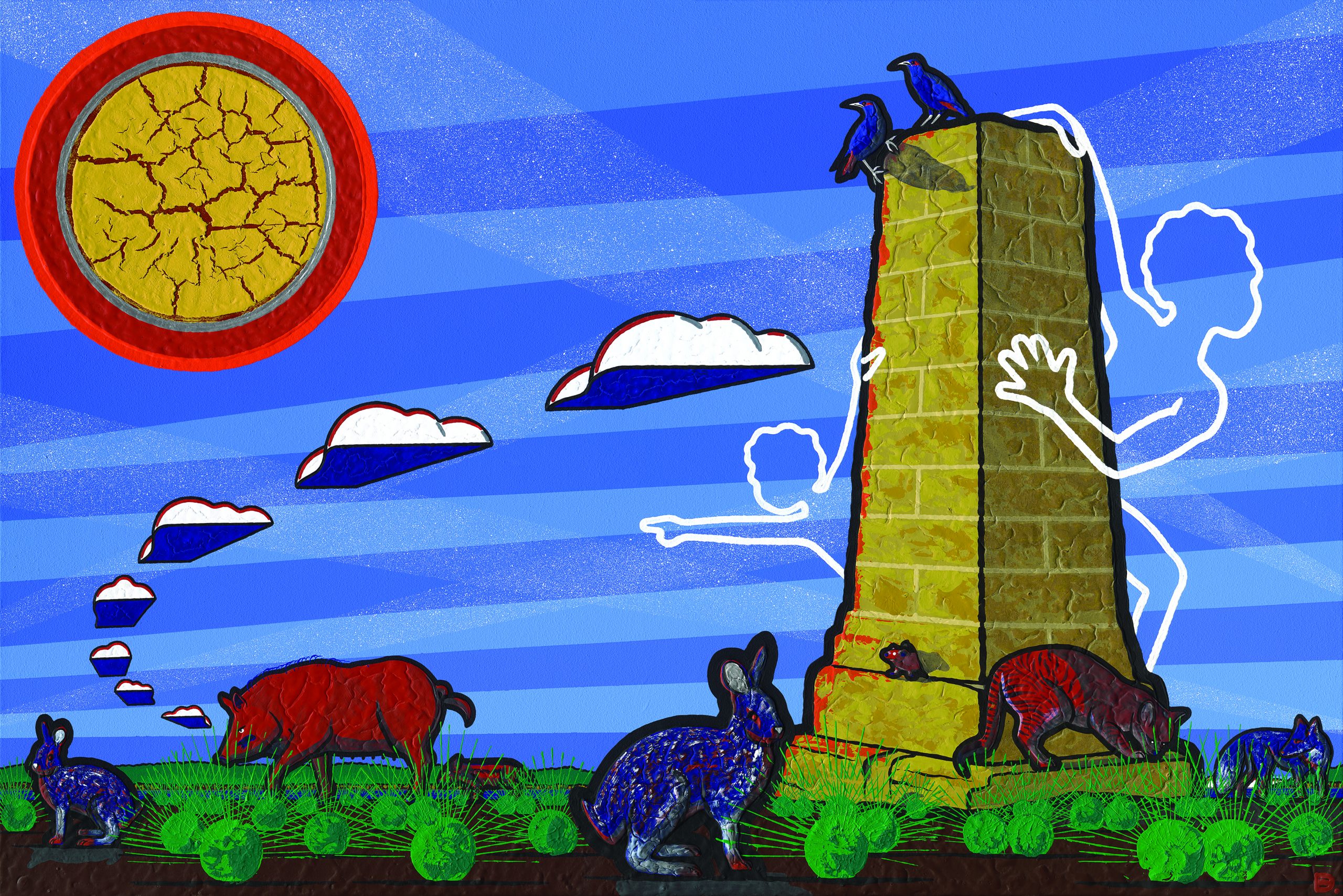 Much is Rife, Blak Douglas, 2021
Art Write Light is generously supported by the Balnaves Foundation.