A season of thanks from the Sydney Story Factory: Day 5, our final day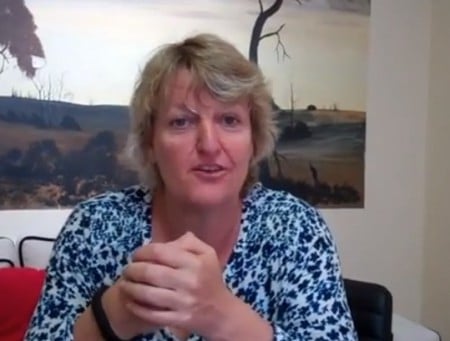 It's the last day in our season of thanks and today we meet Fran McCarthy, principal at Redfern Jarjum College. Just up the road from the Sydney Story Factory, Jarjum is a small school for Aboriginal students who find it difficult to fit into mainstream education. We have been working with Jarjum regularly for most of this year. In term 3, the students came down to see us every Monday afternoon, and created imaginary worlds (sometimes using cardboard rocket ships) which they wrote wild and wonderful stories about. Their stories were bound into a book, and an extract is below. Click here to watch Fran's video, as she talks about what it meant to the the kids when they got their books.
An edited extract from a story by Lila, Shania, and Shakira, called Party in a Space Ship.
There is a Space Dog called "Killer" and she is the captain. The space ship has a party room, it's like an apartment…but it's not. It circles the solar system. The party room is decorated with flowers, pompoms and sparkles. There are four levels below the party room. The basement is the music room with guitars, pianos, and lots of musical instruments
Izzie is an alien who comes from a whirlpool in space between the stars in the Milky Way. She wants to throw a surprise party for Killer, but the dogs ruin it. She is battling against the space dogs; she is captain of the party room. Dixie—she is bossy and mean. She stands over everybody and everything. She wants to be the boss of the party room.
Izzie yells at Dixie and tells her to get out. She gets kicked out and is spinning around in space. It's Killer's birthday and the girls (Claire, Izzie, Dixie, and Pixie) are going to throw Killer a surprise birthday party but then the boys come and they try to destroy Killer. Killer just wants a nice party in the party room of the apartment space ship on the top floor
After kicking out Dixie and winning the battle with the space dogs, Izzie, Claire and Pixie (the good aliens) have a silver, black and gold party. It is a dance party with alien music and guitars. At the end they feel happy, weird and sad. Happy because they end up having a party for Killer. Weird because they look freaky (guests have to wear red and gold—red is blood, gold is the party colour). Sad because they lost Dixie