Workin' 9-5
In our Working Stories program we work with students to visualise a wonderful future for themselves and their dream job – and then work out how to make it a reality.
The girls we worked with at Birrong Girls High School blew us away with their strong sense of who they were and what was important to them. Take a look to see for yourself that the future is looking bright!
With our thanks to all our volunteer writing tutors , teachers and students.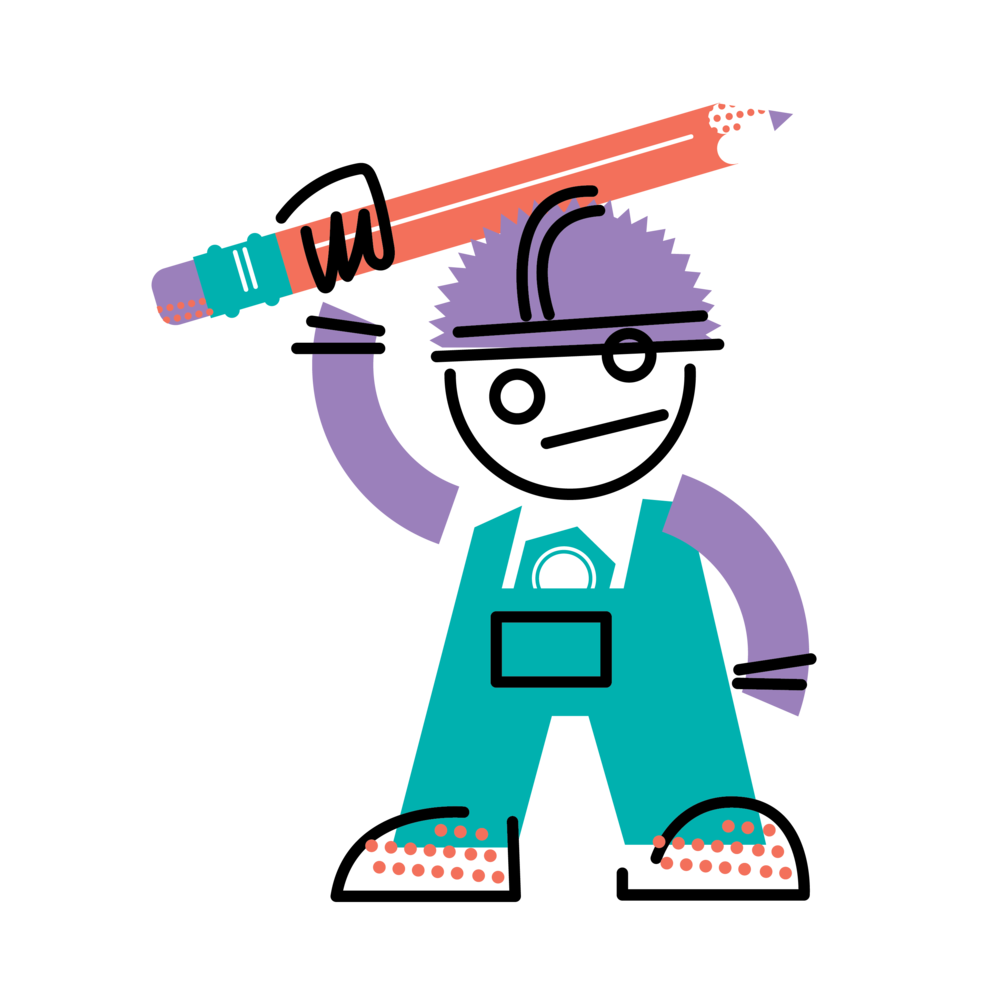 Story Factory exists to bring the joy of storytelling to kids in under-resourced communities. But we recognise that right now, in these unprecedented times, we need to help all kids develop their creative writing.
We have made this resource free, but if you're in a position to make a donation, we ask that you please do. This will help us reach the kids who need it most, now and in the future.
Read more about our other programs here
We asked Nickie, a Year 10 student in our Year of the Novella program, to write an original opinion piece on the Black Lives Matter movement and its implications for her generation.
By Nickie Tran
I saw a video on Instagram of a woman pretending like she was helping a worker board up a window. Drill in hand and bandana wrapped around her face, she struck a pose. Her friend stood in front, camera ready, to snap a photo for the 'gram. Then they drove away.
Ah, social media — our greatest ally during these dark times of police brutality, racism, riots, and chaos. Simultaneously (and unfortunately) it also provides an outlet for opportunists like Instagram Influencers to boost their social media's presence. I'll say it once and I'll say it again: the #BlackLivesMatter protests in the US right now are not a prop for your glamorous photoshoot. It's not an aesthetic you can ride on to show that you care. People are dying, and it's disrespectful to use that opportunity to post hot pics disguised as activism.
Influencer culture on social media, namely Instagram, motivates toxic and pretentious behaviour. Influencers strive for the most likes, followers, and "clout". So during the protests, when online activism is so highly encouraged, certain influencers will use it to gain fame. The Instagram model and influencer, Kris Schatzel, was caught on camera posing and taking pictures at protests before walking away. She argued that it was her way of spreading awareness. However, using protesters who are risking their lives for change as a backdrop is insensitive and superficial. It is not an engaging or immersive form of activism. Staying on the sidelines and using a singular post as the bare minimum does not create real change. It is only signalling to their audience that they are doing something, even if it's not enough.
By glamourising and glorifying activism for an online aesthetic, it's trivialising the real and significant issue at hand. A video was seen on TikTok was made by a boy who purposely tried to get arrested by the police to gain sympathy from his audience. He smiled, laughed and posed for the camera while being led by the police, taking shirtless photos and captioned it all as: "made into a criminal for breaking silence." Of course, this reeks of white privilege, he did it knowing he'll go home unscathed. He mocked it, he knew he won't be punished as severely as if a black person did it. He twisted a devastating issue of oppression and racism into some trendy "bad boy" aesthetic. This tactic of performative activism is a hindrance to real progress.
Influencers should use their platform to amplify black voices, educate their followers, and inform them on practical solutions that actually lead to change. The #BLM protests need to stop being treated like a fashionable trend. The movement is more than just a hashtag. It's more than just a black screen. And it's certainly so much more than just a cute selfie in front of walking protesters.
During an especially difficult time for our Aboriginal and Torres Strait Islander communities, and for Black, First Nations and People of Colour communities across the world, we at Story Factory feel it is important to re-emphasise our respect for Aboriginal and Torres Strait Islander peoples. We acknowledge their enduring importance as the first sovereign Nations of Australia, and that this sovereignty was never ceded or extinguished.
We also acknowledge that the ongoing disempowerment and oppression of First Nations people is a wound at the heart of our nation. For centuries, it has cost Indigenous people their lives. We have the deepest respect for the strength and determination with which Indigenous people have struggled to right these wrongs. Now, at what we hope is a moment of change, we commit to working harder to support them.
We are doing this by working through the recommendations of Reconciliation Australia with our Indigenous and non-Indigenous staff and board. We do some things well but can do many things better. We commit, in particular, to extending our efforts to support young Indigenous people to tell their stories. Last year, we worked with around 700 young Indigenous people – 16% of our enrolment – but there are so many more whose stories remain untold and unheard.
Story Factory started in 2012 in Redfern, where many political and social justice movements were born. We pay our deepest respects to all the hard-working Aboriginal and Torres Strait Islander leaders in this community, and all the communities we work with, who have achieved so much. We will work with them to provide Aboriginal and Torres Strait Islander children a space to express themselves through storytelling and give them the best chance of connecting to their education. We will continue to support these young people to build their confidence and share their stories with the world.
These young people are the future of our nation, and for them – and for all our Indigenous brothers and sisters – we pledge to do more.
Markus Zusak is joining us for a very special student written publication – A USER'S GUIDE TO A PANDEMIC! Markus Zusak is the internationally bestselling author of six novels, including The Book Thief, Bridge of Clay and The Messenger. His books are translated into more than forty languages, and have spent more than a decade on the New York Times Bestseller list.
A USER'S GUIDE TO A PANDEMIC is a collection of writing from young people across Australia on how to get by, and even thrive during a pandemic. Zusak is contributing the introduction to this important new text, but we need your help to finish it!
We're calling for contributions from students aged 7 – 17 to submit their tips, reflections and perspective on what it is like to live through a global pandemic. Student can register to take part in free, online workshops to help shape their idea, or submit their writing for consideration.
This project is undertaken in partnership with writing organisations for youth across the country – Story Board in Byron Bay, 100 Story Building in Victoria and Story Island in Tasmania, and any Australian young person can submit their writing.
The selected writing will be published in a beautiful anthology that captures the spirit of these strange times. We're so thrilled Markus is joining us for the ride, we hope you will too!
G'day folks,
Benjamin Law here – writer, broadcaster, proud Inkwell and Story Factory volunteer and board member.
I hope you're doing out (actually, scrap that – in) there, and that your Vitamin D levels aren't too deficient yet.
Given our physically distanced and self-isolated times, you be forgiven for assuming Story Factory has gone into hibernation. After all, the bulk of Story Factory's work involves going into classrooms and interacting with students, or inviting kids across central and Western Sydney into our headquarters at Redfern and Parramatta for free workshops to boost their creativity and literacy.
So much of Story Factory's work – to date – has been about close contact. If you've ever volunteered, you'll know so much hinges upon pouring patience, encouragement and attention onto individual kids and teens. Over an hour, a shy kid will go from insisting they can't write to almost busting to share their story with the entire class about their favourite AFL player scoring a point, a diabolically murderous robot or fart-filled monster. (Or a diabolically fart-filled AFL player.)
But Story Factory hasn't gone into sleep mode at all. In some ways, we've never been busier.
And actually, we need your support more than ever. Right now, we're in the midst of the strangest – and most logistically challenging – Term Two in history.
Kids and teenagers who were already struggling before coronavirus shut schools and forced them to learn from home are now very much at risk: of being forgotten; of never catching up on their education; of being locked out of the workforce and emotionally losing contact with their school and safety net.
Across New South Wales, teachers are understandably challenged with the rate of change and new ways to deliver classes. Parents and guardians are working out how to simultaneously make a living, readjusting to this new reality and somehow educate their children. Many and finding they almost need to bend the laws of physics to make any of this work.
Which means that more than ever, the work Story Factory does is crucial. We're already helping minimise the adverse impacts of coronavirus on education for kids, teachers and parents alike – not just across New South Wales, but Australia. We're charting new territory, rapidly evolving to ensure we can reach everyone where they are – by mail, video, zoom, email, phone call, even carrier pigeon if needed.
If you page through our website, you'll see free online resources including after-school workshops, fun writing projects and workshops online for parents and teachers.
If you're already a part of our Inkwell program as a financial supporter, we're indebted – you ensure Story Factory's important work continues when it's needed most. If you'd like to consider making a monthly tax-deductible donation, please know your contribution makes a massive local difference, and now has the potential to reach more marginalised young people than ever.
It's a small act with a big result. Small, steady donations make all the difference, allowing us to plan for the future and assure our students that we will be there for them.
Hope you're well and those you love are safe. We can't wait to see you – and the kids in your life – again face to face. In the meantime, we'll see you online!
—Ben
BENJAMIN LAW (羅旭能)
WRITER & BROADCASTER
During this time of isolation Story Factory is joining with our friends from 100 Story Building in Melbourne, StoryBoard in Byron Bay, and Story Island in Tasmania to work with students to compile a world first – A User's Guide to a Pandemic! A collection of writing that investigates the experiences of young people experiencing marginalisation in Australia as they live through the strange current situation.
We'll be delivering online workshops (and so will 100 Story Building for students in Victoria) to support students completing pieces of writing that investigate the challenges, the unexpected joys, the boredom, worries and hopes of these unusual times. Young people from across the country will share what is important to them, what they discover and how they would like the world to change.
If you can't participate in a workshop but still want to contribute you can! Young people can submit their writing here.
The best bit is that all this writing will be published in a handy guide on how to thrive in a pandemic, to share the wisdom of these young writers with future generations!
We've been crunching some numbers and have discovered some pretty amazing things about the work we've been doing over the last year. We had to share!
In 2019 we counted:
5,935 student enrolments (ages 7-17)

16% Indigenous

48% from culturally and linguistically diverse backgrounds

98% from lower socioeconomic communities

55% girls and 45% boys

28,147 hours students spent in workshops with us

6.5 hours of dedicated writing time, on average, per student
All of that means 2019 was our biggest year ever. It also means that we're doing a great job of achieving what we set out to do every week – bringing engaging, inspiring, fun, life-changing creative writing programs to many thousands of the marginalised kids who need them most.
When we began expanding into Western Sydney, and opened Story Factory Parramatta, our aim was to double our annual reach and impact within three years. In both enrolments (reach) and student hours (impacts) we have done exactly that. That's a pretty extraordinary achievement in anyone's book. And it feels pretty fantastic.
In a typical term we're now working with as many as 1,400 children and teenagers in our workshops, giving them opportunities to let their imaginations soar, building their writing confidence and helping them find their voice. The feedback from the teachers who see them in class every day tells us that that investment is making a real difference, increasing their engagement and improving learning outcomes over time.
In Term Two – strange and unusual as it will be for all young people – student numbers and engagement levels will likely end up looking a little different.
But what we know for sure is that all our students need us more than ever. Independent reports are saying that there is a very real risk of significant learning gaps for as many as 50% of kids because of time away from the classroom this year. And they say it's vital that disadvantaged kids, those most at risk of falling behind, are given access to the extra supports that will keep them connected, and keep them learning.
That's where we come in. Now, and in that vital period when things start returning to normal, we'll be there to help them recover lost ground, rebuild their literacy and motivation to learn, and stick with their education.
We're planning for when we're seeing at least 1,500 students a term again, and growing that number even higher. What a very satisfying crunch that will be too.
With the news that students will begin returning to school from week three of Term Two comes the certainty that this will be another term that will feel different to any gone before – for students, parents and teachers alike.
As we, at Story Factory, plan as best we can for the new (albeit temporary and constantly evolving) 'normal', we remain focussed on the young people and families who find themselves marginalised by factors beyond their control, and the very particular set of challenges that they face.
Perhaps they are new arrivals to Australia, some with languages other than English spoken at home, others without access to devices or data to allow online learning, some who rely on school for structure and support, and many others who simply struggle to engage with their education at the best of times.
These are the students we exist to work with, to connect with, and to encourage. Now more than ever it is our goal to affirm for them that their voice matters, that education can be fun, and that by unleashing their creativity they can open up a world of possibility.
Our fantastic storytelling team has been rapidly redesigning our programs so we can continue to reach as many young people as possible. For Term Two we are preparing to work with teachers and students across a multitude of eventualities – whether we are interacting with classes online, via pre-recorded video and workbook modules, with live components, or a combination of these.
We're also offering a range of at-home online options for students and their educators – whether that means teachers or parents and carers.
For high school students we're offering a range of after school workshops, from those designed to engage teens with ideas and discussion in 'Control Alt Edit', to working on a particular piece for later performance in 'Listen Here', or responding to the COVID19 era in 'A Users' Guide to a Pandemic'. Writings collected through our 'Users' Guide' workshops will ultimately be published in an ebook – sure to go down in history as a unique archive of all the ways that teenagers responded to living through this one-of-a-kind experience.
We've also created an online workshop for primary students in Years Five and Six. In 'Animal I Am' children will combine drawing and poetry to create an animal totem that embodies their strengths.
For our educators workshop series, we have workshops for teachers looking for new ways to write poetry with students, a structure to guide students through the writing of an aspirational biography, scriptwriting, narrative and more.
For parents, we break-down proven, simple strategies to engage your kids in writing poems, in seeing and writing about themselves, and in describing the world around them.
All of these programs are offered free because we want to make them readily available to all those who can most benefit from participation. That means that we're prioritising access for young people, teachers and parents from lower socioeconomic and under-resourced communities, including all of those we usually work with.
We know the power that creative writing can have on a young life, and on their education and we want to sing it from the rooftops.
Okay, a bit of an insight into teaching. There's this thing teachers talk about called the instructional conversation, which is the conversation students and teachers have during the learning process. Basically it's split into two parts – procedural and involvement.
Procedural conversation is about getting the lesson moving and letting students know how and what they need to achieve; involvement is the genuine interaction with students – things like encouragement or individual comments on work.
Anyway, the reason I'm telling you this is that it's becoming apparent that isolation and students learning from home has quite suddenly made non-teaching folk painfully aware how complicated these conversations are, and how much work teachers do that is above and beyond just delivering content.
All over the country and the world parents are trying to work out the intricacies of this thing called teaching, and learning that teaching is so much more than content.
As amazing as teachers have been in moving whole months of work online for students (which is pretty amazing), what is more amazing is the sudden recognition of the mysterious interaction teachers have with students that is partway between instruction and partnership, the relationship that inspires and helps students to work as well as they can.
This is what teachers are now really scrambling to find for their students, and it's what some parents are struggling to provide in the mini-classrooms that have sprung up at kitchen tables across the world.
We're all learning, learning how to teach in different ways, learning how to parent in new ways, even learning how to relate and interact with people in new ways.
But it's worth taking a moment to appreciate the ongoing work of teachers as they work to provide students with the social, emotional and educational support they need to continue learning in these strange times.
Richard Short, Storyteller-in-Chief
We asked some of our Year of Novella students to write for us what life is like now they are learning from home. We really have to hand it to them – adjusting to such a different way of life, a new way of learning, and writing their way through is a very impressive achievement!
We're here to support all our students through it, and we'll keep sharing their stories, but for now let's hear from Amaima and Nickie.
It's tough on my willpower, but it's not all that bad. I mean I do confuse week A with week B and Monday with Sunday, just to regret my existence; but still, it's not so bad. I still wouldn't want to go to the place where I can't tease my mum whenever I have the opportunity… And now on a serious note… I think I need some connection with my school and novella workshop so I don't forget the purpose of it all.
I don't feel as if my motivation is strong enough to wake me up every morning for five days a week just to attend classes online. I may be a bit dodgy with it on occasions as well, because that's the side effect of working from home. This is not somethingI'm proud of, so I want all this virus to vanish because people do not look good when they are always stuck at home or so says my mum.
– Amaima (Year 11)
Online workshops or classes often become the highlight of my academic obligations as it's the only time I really get to interact with a group of people who share the same learning goals as me. Story Factory workshops have been so fun and inspirational during these tough times as everybody can take turns bouncing off their ideas that further enrich our craft. However, like anything, there's always limitations. For example, a teacher would sometimes ask a question and everyone is either too intimidated or awkward to answer so that's always a bit funny to watch!
It's hard to discipline myself when everything is online, because physical routines and schedules are thrown out of the window. Nevertheless, it's still nice to be able to continue what we're doing, even if we're hundreds of kilometres away!
– Nickie (Year 10)
Goodbye Term One, we barely knew you.
The first term of 2020 will surely go down in history as one of the most disrupted terms that Australian students have ever known. Between fires and smoke at the beginning of term and then the encroaching threat of COVID-19 changing the very face of education worldwide, we think all students and teachers deserve a huge round of applause for getting through it.
At Story Factory, we were able to deliver our programs despite the changes and we're extremely proud of the writing our students produced under such strained circumstances.
As it became clearer that the health threat from this new virus was significant (remember when we were all still learning about what a coronavirus was?) we made the sad but necessary decision to cancel volunteer placements and finish the term with just our storytellers.
Despite these constrained circumstances, the creativity and imagination of our students were as bright and brilliant as ever. Like Kyle in Chifley College Shalvey, who created a very playful and funny alter ego who is a bald, boring old man who is able to kill with his blank expression. His deadpan delivery when we presented his YouTube channel interview with his alter ego to the class brought the house down.
At Auburn Girls High School Year Ten students were invited to create a script out of embarrassing moments (inspired by our storytellers' mortifying tale of high-fiving his favourite singer in the armpit). One student wrote about getting caught in the rain and having to go to school the next day with wet shoes. She was so excited in telling the story to her volunteer and her group, and her joy and investment in the story is what made it so fantastic. It meant that when it came time to do the activity to develop the story, she wholeheartedly believed it was a story worth telling (and it was) and it made it a better product because of it.
Or at Berala Public School where students were excited and willing to get creative from the beginning, but just didn't know how to. By working through our activities and writing prompts each week, students started creating well thought-out characters and landscapes. For example, a memory card game allowed them to mix and match different bug names to create their very own bug creation! This empowered their imagination and through discovering there were no right or wrong answers, students felt more comfortable to express their ideas and enjoy sharing them with others.
It's clear the challenge for Term Two will be significant. Our students may not have access to a computer, a device or data. We've heard stories of families of four with only mum's phone between them trying to navigate education at home.
Story Factory is totally committed to reaching our students by whatever means we can – through mail delivery of printed writing packs, through pre-recorded videos to watch any time, through live broadcasts, through online workshops after school, free workshops for educators, through social media, email, our website and through our strong relationships with schools. We may even investigate using carrier pigeons! Because even though we don't get to see our students in person for now, we want them to know they are so important, and it's so important for them to keep creating.
We're looking forward to Term Two already.
We asked our storytellers for their top tips for parents and kids adjusting to learning at home. Their biggest tip? Take it easy on yourself! We're all adjusting to this brave new world, and we're all working out what works best. So don't beat yourself up if you've had a challenging day, because tomorrow is a new day.
Once you've taken a deep breath and some time to regroup, here are some working principles to help you along the way.
Encourage playtime. At school, there is a lot of emphasis on syllabus and learning outcomes. What this means is less focus on exploring ideas and concepts through play in the classroom. Now is a great time to allow your children to spend time creating their own imaginary games. It is wonderful for promoting problem solving, sharing, extended attention and creative thinking. This can be through lego, pillow forts, toys interacting with each other, or anything they come up with!

Reading: If you have the time, spend it reading with your kids. Facilitating a love of reading is one of the best things you can pass on to a young person. The best way is to model it yourself (take the time to sit and enjoy an article, or a novel in front of them) or to take the time to read something together. Reading exposes children to new ideas and concepts, whole new ways of thinking, new worlds… it teaches them to spend time alone, to have a means of escape, a talking point with adults and other children. The wonders of reading! You can do this by encouraging them to read something and tell you about it, or by reading to them if they are younger or having difficulty with it. Be patient if you're sitting with them, allow them to get words wrong and problem solve and sound it out. Also, support the independent bookstores that are delivering to your door if you can!

Avoid limitless passive screen time (or too much screen time in general): If you have the capacity to limit screen time, do it. While there are many "interactive" learning games and applications available now, most do not require more than passive observation or guesswork by students. If your kids are desperate to stay on the iPad or phone, give them a project where they can self-teach new skills, like creating a movie, creating music, or developing a story online.

Encourage research. Again, if your children are old enough and are desperate to stay online, assign them a research task. Knowing how to navigate the internet and google searching is not an intuitive skill. Most children will need direction, but once they begin to navigate it, it can be fun! These can be everyday research tasks; finding a recipe, researching an actor or comic book they like, looking up riddles, determining the 'best' watch for children their age etc.

Give structure. Most children respond to a routine, especially if it is similar to that at school. School tends to start with reading and writing, then a break, following by maths and a new subject (science, religion, geography, sport) and a break. Draw up a visual outline/timetable with them and fill it in together. Knowing what comes next removes a huge burden for most children. Check them out on Pinterest if you're not sure what they look like.
Now you've got our tips, why not check out these resources for writing at home and get writing!
Because we, as always, want to prioritise the health, wellbeing and safety of our students, volunteers and all in the community, Story Factory has wound up delivery of Term One creative writing programs a little earlier than originally planned due to the fast-moving situation with COVID-19 in Australia.
This means that Story Factory staff will not be going into schools and partner organisations to deliver programs from next week (24 March 2020). Volunteers have already been withdrawn from all programs.
We are working closely with our school and community partners to ensure that all programs conclude with positive outcomes for our young writers – they'll receive typed and published copies of the writing they've been working on throughout the term, wherever possible, just like usual. We'll also provide extra worksheets for them to be able to continue writing at home in their own time.
We're now moving into planning mode for Term Two, and considering a number of options for continuing to engage marginalised young people in creative writing programs that inspire creativity and help them build confidence with writing.
These are difficult and worrying times, and we're very conscious that for many in the communities we work in there will be a number of challenges ahead. We will do all we can to support them and look forward to resuming our writing journey with them as soon as we're able.
Story Factory is committed to ensuring that the voices of marginalised young people are shared and celebrated. We will continue to publish and applaud their creativity, their ideas, and their wonderful words in the weeks and months ahead.
Stay tuned and stay connected with us via social media, and sign up to our newsletter to receive regular updates.
Vivian Pham's debut novel of love, self-discovery and Western Sydney is out now and available from the Story Factory Bookshop.
Grab your copy today in our Redfern centre or HERE.
We are thrilled to open the doors to Story Factory's inaugural Writers in Residence Program. We are offering eight emerging to established writers a safe, inclusive place to write and share ideas, so they can make a contribution to the future of Australian writing.
In 2018, Story Factory Parramatta opened in a beautiful heritage-listed 1830s cottage. Formerly a family home, lolly shop, and kung fu studio, it's now a one-of-a-kind Dream Lab where young people from across Western Sydney come to write, share their ideas and discover a love of literature.
The entire upstairs floor of this building will be dedicated to our Writers in Residence Program. Each writer will be given a workspace, wifi and access to printing facilities. Additionally, the writers may occasionally be invited to participate as paid guest authors at Story Factory workshops for young people, inspiring them to pursue their writing aspirations. They can also volunteer as tutors, if they choose, although this is not a requirement.
The eight residencies will run till the end of 2020 and will be allocated through a competitive application process. Up to four places will be given to graduates of Story Factory's Year of the Novella and Year of Poetry Programs, with the remaining places open to writers at any stage of their career, from emerging to established, working in any genre.
The judges will prioritise stories that haven't been told before, and voices that aren't heard as loudly as they should be.
The selection panel will be comprised of Story Factory's Storyteller-in-chief Richard Short and Story Engineer Bilal Hafda; writer Roanna Gonsalves; and publisher Alison Green from Pantera Press.
To apply, each writer (18 years and older) must complete the application form below, and submit their CV and a sample of their work. Please note that writers must use the space regularly throughout the residency or their spot may be given to someone else. Unfortunately, as this is a heritage building, there is no disabled access.
Queries should be directed to jane.han@storyfactory.org.au and applications submitted by 13th March 2020. Successful applicants will be notified by 20th March, and will be inducted into the space on 1st April 2020.
The Writers in Residence Program is generously supported by The McLean Foundation, The Nelson Meers Foundation, The Key Foundation and Pantera Press.

'Vivian shows a new Australia here, tied to her place and time but touching on universal themes of longing — and the alternately profound and ludicrous angst of youth… Vivian Pham is one of the indispensable voices of her generation.' DAVE EGGERS
'To read Vivian Pham is to read the future of Australian writing. What a brilliant, self-contained bolt of pure teenage genius. Be prepared to be awed over what Gen Z can deliver.' BENJAMIN LAW
Cabramatta, 1998. The centre of summer.
'There was Vince, with his sunny smile and over-gelled hair, lying in the Woolworths trolley as someone less important pushed him along. There was Vince, never less than vibrant, always pulsating, always looking as though he was about to break out of his own body.'
Sonny watches Vince from her window. For her, Vince's return from juvie is like a crack of light entering a prison cell. She lives a stifling life at home with her emotionally volatile mother, her alcoholic bà ngoại, her brittle-boned brother, and her father: a quiet and contemplative man, always just about to vanish.
This is the story of Sonny and Vince: the children of refugees. Children of the Vietnamese diaspora. And it is just as much about the stories that preceded them.
'I didn't just want to write about what it meant to be Vietnamese in Australia. I wanted to write a story about growing up, about inheriting your parents' trauma, about wishing you could remember a time before you were born, about the terror of never being able to choose the way other people see you, and the way you see yourself; and none of these experiences are the private property of people who look like me or those who share my heritage,' says Vivian.
'In short, I wanted to write a story about a diaspora, but I wanted to build a homeland for everyone within that narrative.'
Vivian's father, her greatest role model, escaped Vietnam on a boat and migrated to the United States when he was 17. Vivian was born in Orange County, California, and came to Sydney with her family when she was very young. She grew up loving stories because she knew there was one inside of her dad.
The Coconut Children was first written as a novella when Vivian was seventeen years old, through the Sydney Story Factory's 2017 novella program. She says that without the support of the Story Factory tutors, her story 'risked being eaten alive by teenage angst'.
This is an urgent, moving and wise debut from a major new talent in Australian literature.
For more information please contact Maddie Garratt, Publicist 03 8537 4523 / 0466 560 375 / MGarratt@penguinrandomhouse.com.au penguin.com.au / 707 Collins St, Melbourne VIC 3008 / ABN 28 004 815 703
About the Author – Vivian Pham is a Vietnamese-Australian fiction writer, closet poet, amateur screenwriter, university student and hopeful dropout if any of the aforementioned ventures take flight. In 2018 and 2019, Vivian attended the International Congress of Youth Voices and shared a stage with incongruously successful writers and activists like Dave Eggers, Chimamanda Ngozi Adichie, Rep. John Lewis and Khaled Hosseini. It is her greatest hope to have an impact on political issues through her creative work.
Vivian is a fervent reader, watcher and listener. Her literary influences include James Baldwin, Monty Python, Wu Tang Clan and early '90s Hong Kong cinema. She is currently completing a Bachelor of Arts with a major in Philosophy, but she will not be able to tell you the meaning of life until the relevant unit learning outcome is achieved in Semester 2.
'You'd have to go back to Carson McCullers's debut to find such an accomplished and original voice in a writer so young. I've seen Vivian Pham stun an audience of 2000 with her oratory and original thinking on colonialism and the burden of history, and now she stuns on the page in this deeply felt and intimate coming-of-age novel. She shows a new Australia here, tied to her place and time but touching on universal themes of longing — and the alternately profound and ludicrous angst of youth. Vivian Pham is one of the indispensible voices of her generation.' DAVE EGGERS
'You can smell and taste this book – a vivid picture of Cabramatta in all its late millennium glory and grit. Vivian Pham goes straight to the important things in life – food, family, friendship, freedom, sex, love and death. The writing is full of grace and courage – fierce, frank and funny.' PAUL KELLY
'This is an outstanding debut about love, memory, community and finding your place in a beautiful and heartbreaking world. Pham is a master at showing that all people are complex, contradictory and difficult to define. The characters in The Coconut Children will linger on in your mind like a great open-ended question.' FELICITY CASTAGNA, AUTHOR OF NO MORE BOATS SHORTLISTED FOR THE MILES FRANKLIN AWARD
'In lyric slivers as sharp as the 'blade of water' refugees cross in the novel's preface, Pham maps the shape and grain of fierce and fragile resilience against intergenerational trauma, secrets and desire. The momentum of this novel, its originality, energy and verve, are extraordinary. Vivian Pham is, without doubt, a major new talent.' FELICITY PLUNKETT
Nafisa has worked in education for more than 30 years as a teacher and principal. She left her job, in India, five years ago and moved to Australia to support her daughter and six-year-old grandson.
"When I came to Australia, I did some googling about volunteering opportunities in Sydney and I came across creative writing and Story Factory," Nafisa says.
"Honestly, at that time I thought it might not be for me as I've been a maths and science teacher and in society you get stereotyped. But I read about it thoroughly and decided to give it a try."
Nafisa is now glad she made that decision. "I think this is the best thing that could have happened to me, because I am thoroughly enjoying it and I think I have grown," she says. "One part is the joy, the happiness and the satisfaction, and the other is giving back to society."
Nafisa finds that the structure of Story Factory workshops makes it easier for her to assist the students.
"With Story Factory, the scaffolding and prompts are so beautiful, so by the end of the term the students are not even aware that they have come up with a piece of writing," she says.
"Among my group of girls at the last workshop, one of them was slightly different in the sense that she was less open compared to the others, but by the end she had a piece of writing and had even bought me flowers."
And the positive effects of volunteering at Story Factory workshops can flow both ways.
"Being with students gives me a high, and I never knew that I could be creative with writing and language. Thanks to Story Factory I have become a creative writer." – Nafisa
By Valerie Strauss for The Washington Post
7.1.2020
In 2002, the nationally renowned author Dave Eggers ("A Heartbreaking Work of Staggering Genius," "The Circle," "What Can a Citizen Do?") started a nonprofit organization with educator Nínive Calegari dedicated to helping kids learn how to write well. The San Francisco organization, 826 Valencia, is still in operation, and it spawned 826 National to take similar writing and tutoring programs to other cities.
What is 826 Valencia? How — and how well — does it work? This post explains all of that. It was written by David Kirp, a professor of public policy at the University of California at Berkeley, whose newest book is "The College Dropout Scandal.
"To be sure, there is nothing new about the lament that too many Americans are poor writers, yet the problem remains, even though one approach after another is tried. The Common Core State Standards, which most states adopted early in the 2010s, were supposed to fix this problem, but there is no real indication that their implementation has broadly improved the situation.
ADKirp, it turns out, is a volunteer at 826 Valencia and describes his experiences with the program, offering one approach that he believes works well.
By David Kirp
Early on a muggy summer evening, in the backroom of a pirate store in San Francisco's Mission District, 20 middle and high school students are deep into a discussion about the contents of a magazine they plan to publish.
A handful of adults — writers, teachers, techies, retirees and undergraduates — will mentor these youngsters. I'm one of the mentors.
Kids' hands shoot up, ideas get batted around and decisions made. Space exploration, women in politics and the San Francisco Giants (how they can become contenders again) are among the topics the youngsters choose.
The eighth grader I will spend time with wants to learn about successful entrepreneurs — "like my dad," he tells me.
As the weeks go by, the magazine takes shape. The students conduct interviews or comb the Internet. They write drafts, share them with their mentor and the other kids. They rewrite them, sometimes twice over. The magazine they produce will be distributed in local schools.
The organization that has been nurturing such creative activity for the past 18 years is called 826 Valencia, the address of the storefront where this venture had its start.
Considerable teeth-gnashing, hand-wringing and finger-pointing has accompanied the news of U.S. students' mediocre performance on the PISA science, math and reading exams. But not enough attention gets paid to another weakness — most students cannot write well.
There are a number of reasons for this sad state of affairs. The use in recent years on standardized test scores as a key metric of accountability in schools put a prime value on writing short exam essays, and that helped lead to a reduction in longer writing assignments. Some schools of education do a poor job of teaching students how to teach the subject, and some school districts do not provide teachers with a valid curriculum.
There are, too, teachers saddled with as many as 200 students — "we feel like we're drowning," one teacher said — who can't assign many writing assignments because they don't have the time to grade them. And when assignments are made, many are less than enticing to young people.
826 Valencia looks nothing like this. The tutors are volunteers, who sign up because they love writing. There is no set-piece curriculum — the aim is to get kids, many of them minority youngsters from poor families, writing about whatever they care about most.
Over the years, these youth have authored nearly a thousand books, such as "Talking Back," students proffering advice to their teachers, and "Like the Sun in Dark Spaces: Narratives across Generations and Continents," stories by immigrant kids about what it means to learn America.
"Kids' brains change when they go into a place like a pirate store," co-founder Dave Eggers told me. (Eggers is, among many things, the author of "A Heartbreaking Work of Staggering Genius," a memoir so moving that it almost lives up to its title). "They feel at home because it's strange and funny, not intimidating."
"The kids want to write about their own lives," Eggers said., recalling a moment when hordes of baton-wielding police stormed an inner-city high school to break up a garden-variety schoolyard fight. That episode traumatized many of the students, and it became the jumping-off point for a book about why youth of color are perceived so differently from youth in the suburbs.
"The essays helped them on their way to healing," he said. "The written word on a published page has that effect.
"There is solid evidence that this approach is working. The 826 Valencia participants' writing improved 19 percent during the course of a school year, as measured by a National Writing Project rubric — that is well above the norm — and those whose writing was weakest at the outset showed a 30 percent gain.
When surveyed, almost all the students reported that they had become more confident about their writing.
"When I'm published I feel like I'm a movie star or a millionaire," one student explained. "When I write about my life or funny stories or serious and sad stories, other people can laugh, cry or be sad … and when I'm an adult I will be a famous writer in the city of San Francisco."
The idea behind 826 Valencia has spread far beyond San Francisco. Eggers proselytizes when he is on a book tour — "my Johnny Appleseed thing." Listeners who are intrigued venture to the pirate store, and some are so inspired that they start their own 826.
Similar ventures have sprouted in nine U.S. cities — 826 DC is housed in Tivoli's Astounding Magic Supply Company — as well as more than sixty countries, from Sweden to Chile."The tendrils keep sprouting," says Eggers.
Although the particulars differ, the motivation is the same — the belief that children deserve a chance to find their own voice. For novelist Roddy Doyle, who started an 826-inspired center called Fighting Words in Dublin, "access to writing is a modern human right."
There is seemingly no end to the imaginative ways to hook children on getting their ideas down on paper. Children's poetry has appeared on pizza boxes in Detroit and on a postal stamp in Ireland. Two years ago, Thomas Pesquet, the first French astronaut, announced a writing competition from the International Space Station, inviting kids and young adults to write a short story inspired by "Le Petit Prince." Four months later, he read the two best stories, selected from more than 8,500 submissions.
Charles Autheman, the director of the Lab of Stories, dreamed up that contest. He is also the moving force behind a competition that will add art and poetry to mundane French manhole covers. Dave Eggers calls him "the most inspired leader in the global network," and with good reason. Starting eight years ago, with a single center in Paris, he has built a network that covers much of France and extends to enclaves in the Caribbean.
"For young people, writing is often the first experience of freedom," Autheman told me. "As long as kids need a safe place to be heard, we have an obligation to grow."
To begin 2020 we are thrilled to welcome our new Volunteer Manager to Story Factory – Thuy.
Thuy grew up in Cabramatta and always dreamed of living and working in faraway places. Little did she know that even though she loved adventures abroad, her heart was always in Western Sydney. Thuy has worked with young people in Western Sydney for 5 years, most recently managing the mentoring and driving programs at Youth Off the Streets.
Thuy loves finding ways to bring together people and resources to empower and engage young people. She is incredibly passionate about volunteering, having seen the difference that nurturing and positive adult relationships can have on marginalised young people.
We're excited to be working with Thuy who brings with her many years of experience working with both young people and volunteers which are two key elements here at Story Factory!
Thuy will be focusing on growing our volunteer base to help in our ever-expanding number of workshops across Sydney and Western Sydney as well as helping us make sure we're supporting all our volunteers as best as we imaginably could!
If you're interested in volunteering you can drop Thuy a line at thuy@storyfactory.org.au
The release recently of the Programme for International Student Assessment (PISA) literacy and numeracy test results painted a less than ideal picture of Australian education standards. In fact, Australian students have recorded their worst results in international tests yet, failing for the first time to exceed the OECD average in maths as well as showing marked declines in reading and science.
This comes hard on the heels of a Four Corners investigation into declining writing skills; what many are describing as a crisis in Australian classrooms. As part of that investigation an education specialist said "Writing's a real worry. The results have been steadily getting worse – both for boys and for girls – boys are much worse than girls. But the average student is working about 12 months below where they used to be a decade earlier."
Dan Tehan, Federal Education Minister said "We're flatlining as a nation…we're not making the progress that we should be making and we need to redouble our efforts."
If this is a crisis for general Australian education standards, it is doubly so for students from marginalised communities, or schools that are under-resourced.
Since 2012, Story Factory has been partnering with schools in exactly these communities, co-designing programs with teachers that engage children and teenagers from marginalised backgrounds, engaging them in creative writing programs that make learning fun.
All of our programs are designed to complement and amplify the great work that dedicated teachers are doing every day, building critical writing skills and confidence, so that students can improve educational outcomes over time.
Richard Short, Story Factory's Storyteller-in-Chief says the PISA results are bad news but also mask the individual stories of frustration and disengagement from students.
"Numbers and test scores don't break my heart, but what does is when I see a student who doesn't believe that they can succeed, or who doesn't believe they can continue with their education," he said.
This challenging environment is where Story Factory really excels.
"One of the things I believe the Story Factory provides students with is an environment in which they can flourish and their confidence can grow," says Richard.
"After leading workshops for all these years I know that Story Factory workshops offer a place where students feel welcome, where they're keen to attend, and where they leave believing that they can aspire to and achieve the next step in education. This is particularly important for students from disadvantaged backgrounds; our workshops encourage students to write, share stories and engage in the creative process."
"All of these activities play a part to make written communication, both reading and writing, a more genuine part of the student's life. As a result of the workshops students feel more confident about their ability to use words, to understand words and to believe that words can be a part of their future; and this understanding that words matter at a level that is more than functional, that words will help them to understand and discover who they are and how they can be in the world is vital," says Richard.
Test scores give a helicopter view, but they are never the whole story.
"Test scores give us a picture, but a student who believes in words and is willing to use them is a student who will succeed in education.
"This involvement and commitment is what makes a 'good' student, it looks like different things on different days – some days it's a conversation, some days it's a raised hand or a question, some days it's a fully realised story; often, for students who struggle with school, it isn't something that's shown in a test score, but teachers see it, teachers work for it as much as they work for the numbers on a report, and so do we."
UPDATE: We are no longer accepting applications. Thank you to all that have applied and for those that have missed out please keep an eye out for potential roles in the future.
We're looking someone phenomenal to be our new Volunteers Manager: Recruitment & Training.
All Story Factory workshops are designed and led by our expert Storytellers: exceptional teachers with a passion for writing. They are assisted in workshops by volunteer tutors, who work with students in small groups to support them as they complete the writing tasks set by the Storytellers.
For a small organisation, we have a very large number of volunteer tutors: 1,400. But we still need more, particularly for workshops in Western Sydney. The Volunteer Manager: Recruitment & Training will work with all our volunteers and develop and execute an effective strategy to recruit and train more volunteers.
The Volunteer Manager: Recruitment & Training will work right across Sydney, but spend most of their time in Western Sydney and deliver engaging training sessions for new volunteers that effectively prepare them to tutor in our workshops.
For a full position description including how to apply for the role please click here.
'We Talk Project' by Caoimhe Deering
First published in WHAT WE SEEK an anthology of 115 contributions from youth delegates at the International Congress of Youth Voices, published by McSweeney's. Caoimhe is a past Story Factory student who now tutors young students as a volunteer in our workshops.
I seek to give back what was given to me and more.
I have been so carefully nurtured in every stage of my life. I came from a small family and went to a small primary school that was devoted to educating with the highest degree of care and standards.
The pinnacle in my history of places where I have been encouraged and supported is a small writing centre called Story Factory. The centre was, back then, a means to escape reality and enter a fun world free from the formality of normal routine. Walking through that door and shutting out the bustle of inner-city Sydney was like opening a portal into magical wonderland. There was no right or wrong answers, no silly ideas or questions. There was only encouragement and fostering of our young minds. My fondest memories take me back to these workshops, where I anxiously tried to exhaust every creative faucet in my body and mind and enjoy this amazing place where I felt safe to express my views and opinions.
Now, five or six years later, as a high school student pursuing her love for writing, the real effect of these workshops has only just become apparent for me. When I was ten years old, I gravitated towards Story Factory because of how much fun the workshops were. I now realise that it was in fact all about the energy of the space. Having an adult who was there to hear me speak and actually cared about what I was writing week after week filled me with confidence and provided a strong foundation for the person I am today. And it wasn't just the one-on-one attention I received that made such an impact. It was also the overall security I felt upon entering the centre. I could speak without the fear of being judged and write without worrying.
Now that it has all come full circle and I am privileged enough to have the opportunity to tutor kids just like me the importance of places like these is even more obvious to me. For without all of the blessings I was afforded I wouldn't be the person I am today writing this. And I most definitely would not be able to give back what was so generously given to me.
Having a place where young kids, regardless of who they are or where they come from ,or what they want to share and where they can access an adult who cares enough to listen to their stories and hear about their day immensely improves their wellbeing. An interested adult may even be a phenomenon unknown to some of the kids who waltz in through the doors of places like Story Factory every week. Not only have I experienced it personally, but I have seen it first-hand. To watch kids who upon beginning of a term are difficult and unhappy but by the end of a term become committed to their writing fills me with upmost joy.
So, what I seek most in this crazy yet beautiful and diverse world that we live in today is to be able to provide even the slightest bit of nourishment to a child just as I was provided at that same age. In the hopes that any kid regardless of their background will feel confident enough to share their own story.

About Caoimhe Deering
Caoimhe Deering has always been an avid reader and writer, using her writing as a way to have her voice heard. She feels very passionately about multiple topics but one in particular is the treatment of Indigenous Peoples and how Indigenous culture and history is taught in school.
Caoimhe volunteers at the Story Factory, a non-for-profit creative writing centre. Story Factory works with many Aboriginal students from disadvantaged backgrounds, nurturing their interests and education. Caoimhe was nominated for the 2018 New South Wales Youth Volunteer of the Year Award. She serves on the Environment Executive Council at her high school and leads initiatives such as Earth Hour and Clean Up Australia Day. She feels that young people weighing in is essential in today's society as it is these younger generations that are the future leaders of the world. She hopes to use her knowledge, passion and speaking skills to make a difference in the world.
The CineVerse Project is a major collaboration between the Story Factory, the Australian Film Television and Radio School (AFTRS) and four high schools – Prairiewood High, Bankstown Girls High, Doonside High and Bonnyrigg High.
The project allowed teenagers from these Western Sydney communities to use the language of film and poetry to investigate things that matter to them.
During intense and creative all-day workshops students wrote poetry exploring obsessions, worries, visions and more. Their writing was brought together and published as a handsome anthology – a collection that speaks volumes about what it is to be a young person in Western Sydney in 2019.
From these poems students then worked with AFTRS to create short films that brought their words vividly to life. And they're pretty fantastic.
Check out the films below from each of the schools who participated.
We are looking for a casual storyteller to work at schools across Western Sydney and sometimes at our Parramatta centre. This role involves leading a range of exciting creative writing workshops with students in upper primary (stages 2 and 3) and high school. Most of these will be workshops we have already developed – including our one-off bookmaking, script-writing and robot birds workshops – but you may also occasionally work with our team to develop new and innovative programs responding to students' needs and interests. Professional development and support will be provided, if needed.
The ideal candidate will be an exceptional, experienced teacher with a passion for nurturing creativity in young people, and the drive to deliver innovative writing programs that become a benchmark in the field.
For all the details and to apply, click here.
We're thrilled to announce that in 2020 we'll be partnering with Bankstown Youth Development Service and three Bankstown High Schools to run a major project centred on… the contentious theft of a lemon tree.
Our Courtroom Slam project is going ahead thanks to a My Community Grant from Service NSW. The grant – announced today – was decided by public votes. A huge thank you to everyone in the Bankstown electorate who took the time to vote for us and showed their support for this terrific project.
Courtroom Slam will create an opportunity for Bankstown-area young people to explore cultural perceptions surrounding crime and justice through slam poetry and multimedia art.
Over six months, we'll work with around 50 marginalised teenagers in the Bankstown area. They'll write, rehearse, and deliver public performances of an original slam poetry script based on a true story – the theft of a cherished lemon tree from a local community centre.
That theft caused ructions and had ramifications that rippled out throughout the community. As each poet assumes the persona of a different character in the story, adopting their particular perspective as the crime is brought to court, they'll explore the ways community tension and conflict highlight cultural differences and diverse beliefs surrounding justice and ownership.
The project will connect young people of similar backgrounds who are experiencing disadvantage and social isolation, helping them develop the kind of self-confidence where they aren't afraid to raise their hand, to know that what they have to offer is worth sharing, and worth listening to – to empower them.
In the process they'll improve literacy and communication skills through creative writing programs that improve educational outcomes.
Bankstown young people say their needs and views too often go unheard. By empowering them to creatively explore sensitive issues which impact their everyday lives, and giving them a platform of their own from which to speak, Bankstown leaders and community members will hear and understand the thoughts, feelings and fears of their children, delivered straight from the heart.
Courtroom Slam gives Bankstown teenagers a uniquely creative opportunity to explore concepts of citizenship and justice within their multicultural community.
We can't wait to get the project started!
In the second phase of Art Write Light, our year-long collaboration with Bangarra Dance Theatre, we're offering free poetry workshops to schools in Western Sydney.
Art Write Light 2019 is a creative writing project curated by Story Factory, in collaboration with Bangarra Dance Theatre and dancer, choreographer and educator Kaine Sultan-Babij.
The aim of the project is to create opportunities for students to creatively respond to the work of living artists, and each other, and for this to inform and enrich their approaches to writing and storytelling.
The project began when Sultan-Babij was commissioned to produce a new dance piece. In Term 2, he premiered Unborn, a short dance work exploring the caterpillar Dreaming of his Arrernte heritage. High school students then produced writing in response to this work, and to Sultan-Babij's life, exploring themes of identity, belonging and ambition.
What we are offering now:
In the second phase of the project, in Term 3 and early Term 4, we are offering free one-off, two-hour creative writing workshops to eight primary and high schools in Western Sydney.
In these workshops, students will create new texts using the writing produced in Term 2 in response to Sultan-Babij's work. Students will learn about and use erasure techniques (think the Blackout Poetry of Austin Kleon taken to the next level!) to create new poems and micro-fictions.
The writing produced by the students, along with a second dance piece created by Sultan-Babij in response to the students' work, will then be incorporated into a light-based installation to be launched at a special event at Story Factory Parramatta in mid Term 4.
This event will be open to the public from Thursday 7 November (launch) until Saturday 9 November 2019. All students involved in the project will be invited to attend.
Art Write Light is generously supported by The Balnaves Foundation.
Audience: students in Stages 3-5 in Western Sydney schools. If you're at a school serving high populations of marginalised young people (FOEI above 100, or ICSEA below 1,000), contact us on info@storyfactory.org.au and we'll book you in.
For thousands of years people have known about the beneficial effects of reading and writing. That's why we created our new project, Prescription Poetry.
We've gathered a range of ailments from people – from worries about a family member to fear of spiders or nerves about a big footy game – and in fast-paced two-hour workshops students take on the role of "poetry doctors", prescribing positive and practical advice in verse.
Their poems, in pill bottles, will be distributed from a pop-up Poetry Dispensary at the Story Factory Parramatta in the middle of next year.

Teachers, do you have a class of students in stages 3-5 who'd like to do this FREE workshop? Email us today! info@storyfactory.org.au.
We're running the workshops in Term 4 this year, and Terms 1 and 2 next year. Remember: we only work with schools serving high populations of marginalised young people (FOEI above 100, or ICSEA below 1,000).
Over the course of the project students will:
think creatively and critically

write poetry in ways that are purposeful, challenging and descriptive

learn about the concept of bibliotherapy and experiment with the form of prose poetry

draft, edit and create multimodal texts that play with publication conventions
On the first day of term 3, we visited the largest primary school in NSW: Westmead Public. Before their 1,600 students – yes, 1,600 – returned the following day, three of our storytellers worked with all 90 teachers to help them investigate creativity in their classroom. The teachers seemed to find it particularly useful to develop a language they could use to discuss and describe the process of creativity for their students. Plus, of course, they made some excellent Robot Birds.