Want to work at the SSF?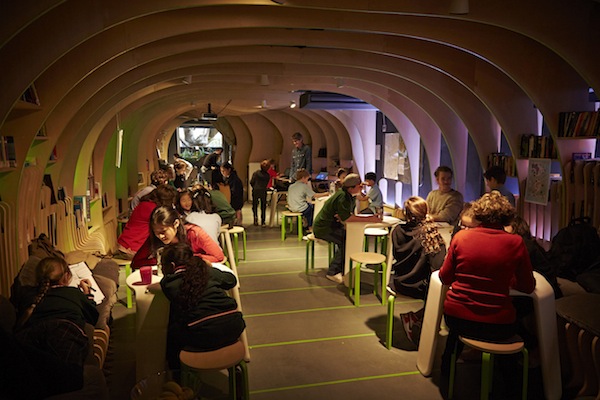 Are you passionate about education and encouraging young people's creativity? The Sydney Story Factory is looking for a new Development Manager, Trusts and Foundations. This role assists with the social, emotional and academic development of young people. If you are driven and want a challenging but rewarding position – here it is!
Small, grass roots not-for-profit organisation
Make a difference to children's development
Based in Redfern, very close to public transport
Part time opportunity – very flexible around working hours and arrangements
The Organisation
The Sydney Story Factory (SSF) is a not-for-profit creative writing centre for young people that opened in Redfern in July 2012. Under the supervision of their Storyteller-in-Chief, volunteer tutors provide students with one-on-one or small group help to write stories of all kinds, which they publish in as many ways as possible. Programs target marginalised young people, and those from Indigenous or non-English speaking backgrounds, but are open to everyone. All classes are free.
The team is looking for an experienced development manager with a major focus on trusts and foundations. We're looking for someone with a "can do" attitude and a collaborative approach who has previous experience writing grant and trust proposals, as well as building new and successful revenue streams.
This is a unique role in a highly creative and fun environment. It will suit someone who is strategic and excited about helping the organisation into its next stage of growth.
The Role
This is a pivotal role within the organisation – you will be responsible for maintaining and developing ongoing fundraising relationships. Your role will also be to  identify and develop new revenue streams through profitable and mutually beneficial relationships with corporates, foundations and individuals. This is an exciting opportunity for you to put into practice your expert writing and communication skills, translating the passion, vision and direction of SSF into ongoing support.
Day to day the role will be autonomous, so you will need to be highly self-motivated and driven. The role is working within a small team of six people.
Key Responsibilities:
Identify key funding opportunities - potential philanthropic, corporate and private donors
Develop propositions and communication channels to attract and retain support (corporates, trusts and foundations).
Work closely with the board and executive director to develop a three-year fundraising and sustainability strategy
Develop, manage, track and report on annual budgets
Develop and maintain relationships with donors and potential donors
Grant writing
Create and execute annual and event-related fundraising campaigns
Maintain data in their CRM - Salesforce
Ad hoc projects and development projects
Skills and Attributes:
A passion for writing and the creative education of young people
Relevant tertiary qualifications
Demonstrated experience in professional fundraising
Proven ability to hit fundraising targets and manage budgets
Proven ability to think strategically and create communication materials for engagement in a not-for-profit
Exceptional communication and grant writing abilities with demonstrated success
Outstanding relationship management and communication skills
A strategic approach with the ability to cope with change
Demonstrated ability to manage multiple projects with shifting and short deadlines
Demonstrated ability and passion to mentor team members
You will be known for your exceptional grant writing, relationship and partnership management skills. You will be proactive, approachable and results oriented, with the ability to handle complexity.
If you are a fundraising professional with an excellent record in philanthropic gifts do not miss this. This is a great opportunity to be involved in the strategy and future direction of Sydney Story Factory.
Please apply by emailing victoria@beaumontconsulting.com.au with a resume and covering letter outlining your achievements and reason for application.
Please note that there is no closing date for this role and applications will be assessed as soon as they are received.
Beaumont Not for Profit has been contracted to recruit this role. Beaumont NFP is a non-profit service specialising in delivering unparalleled permanent and temporary recruitment solutions to the Not for profit sector on a Not for Profit basis