Judge a Book, Buy its Cover... Returns!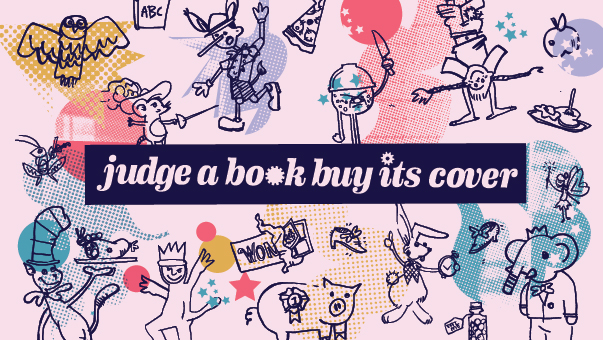 VOTE NOW FOR YOUR FAVOURITE CHILDREN'S BOOK
You could win a prize - or see the book given a new cover by a leading Australian artist.
Are you a Roald Dahl fan? Or do you prefer Dr Seuss or Harry Potter? The Sydney Story Factory is compiling a list of our city's favourite children's books, and we want you to vote.
Your votes will be used to create a list of Sydney's top 50 children's books. This list will be given to leading artists, who will choose a book and create either a new cover for it, or an artwork inspired by it. The works will offer new perspectives on our best-loved children's stories, and will be exhibited in Judge A Book, Buy its Cover at Depot II Gallery, Danks Street, Waterloo, from October 15 to 19, 2013. The artworks will be sold by silent auction, with all proceeds going to the Sydney Story Factory, a not-for-profit creative writing centre for young people in Redfern.
The list of the top 50 children's books will be published on this website on Monday, June 17, 2013.
The exhibition follows the success of the first Judge A Book, Buy its Cover exhibition in November 2011, which focused on adult books. Jasper Knight reimagined The Great Gatsby; Jason Benjamin chose Cormac McCarthy's The Road; Wendy Sharpe picked Jane Eyre, while Bronwyn Bancroft opted for Paulo Coelho's The Alchemist. (View The Sydney Morning Herald story on the exhibition here.)
Voting opens Saturday 25th May and runs till Sunday 9th June, 2013. Vote at the Sydney Story Factory, 176 Redfern Street, Redfern (look for The Martian Embassy), or by emailing myfavouritebook@sydneystoryfactory.org.au. All voters go in the draw to win a selection of classic children's books donated by Random House Australia.
Or vote at these bookshops, for the opportunity to win something a little different:
Berkelouw Books, 19 Oxford Street, Paddington, or 6-8 O'Connell Street, Newtown, or 70 Norton Street, Leichhardt. Prize: 5 x $30 vouchers.
Better Read than Dead, 265 King Street, Newtown. Prize: Signed Oliver Jeffers print and a copy of his book, Neither Here nor There.
Oscar & Friends, 35/277 Crown Street, Surry Hills or 19-27 Cross Street, Double Bay. Prize: $200 gift voucher.
A huge thanks to our book shop friends for donating prizes to this exciting competition/exhibition/auction/extravaganza!