A part of celebrating Indigenous stories is ensuring at an organisational level we are honouring the contribution of our First Nations students and staff.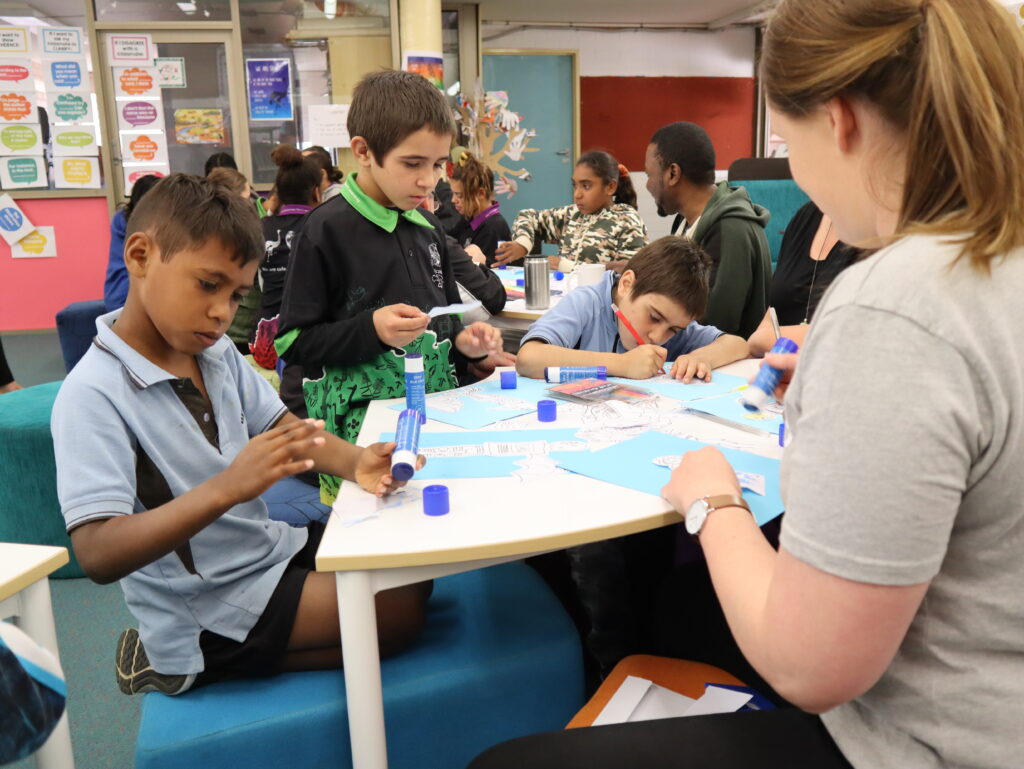 We have committed to a reinvigorated and meaningful Reconciliation Action Plan to ensure Story Factory is a culturally strong and safe place, across all aspects of our organisation.
We have recently hired Story Factory's first Aboriginal Engagement Manager to assist with this important work, and to support our Aboriginal and Torres Strait Islander students, families and communities.
Some of our fabulous Indigenous students' writing has been brought wonderfully to life by our storyteller Russ, a proud Ngarrindjeri man.
Have a listen!
Wayne – The Devil and Me
Sky – T. Rex the Mountain Jumper
Brooklyn – My Story
STORY SNIPPETS
Dino Teleportation
One day at the edge of a world called the Dinosaur Life, there was a Dino named Baka. He was trying to teleport to the human world but the teleporter gun was accidentally switched to Alien World. Baka went to the cupboard where he keeps the teleporter gun and grabs the wrong one and goes to the Alien World instead.
He walks out of the teleporter made of diamond and sees a sticky hairy earth alien named Goleuo and starts talking to him.
Goleuo says, "If you stay here too long you're going to turn into an alien. You need to go back."
Baka agreed but Goleuo wanted to come with him. They go back through the teleporter and come out in the deep dark woods.
By Shaelari
Transmission 2
Hey viewers – so today something went wrong and it was almost a catastrophe! There were two options staring me in the eyes which were going past a volcano which could erupt at any moment or going through a dust storm which could send me off my path or lead me to death.
It was actually good research for my mission, though! Because I got to see what a volcano looks like in space and how it works. I have found out that there is no life here so far but so much hasn't been explored so that it is unlivable on Mars.
It was really scary there for a while. First I had to climb a giant volcano that could erupt and send me flying at any moment. It was terrifying thinking that my life could end in a second and die from raging lava falling slowly down. The temperature changed and I could see the space station about one kilometre away and I have 5% oxygen.
By Maison
Transmission 3
Hello all my followers on Earth! A lot of you have been sending questions, asking what I eat on this mission. Well there are a lot of different foods I have to eat but my favourite one is mash potato and diced tomato. I mean it was ok but I think I prefer tuna and rice with cheese for the main course and for dessert chocolate with banana and peaches.
Food is obviously different for me back on Earth! I always think of the time when mum made chocolate with cupcakes that were warm.
By Kerryleigh
@SydneyStoryFactory on Instagram
This error message is only visible to WordPress admins
Error: There is no connected account for the user 17841402181997114.