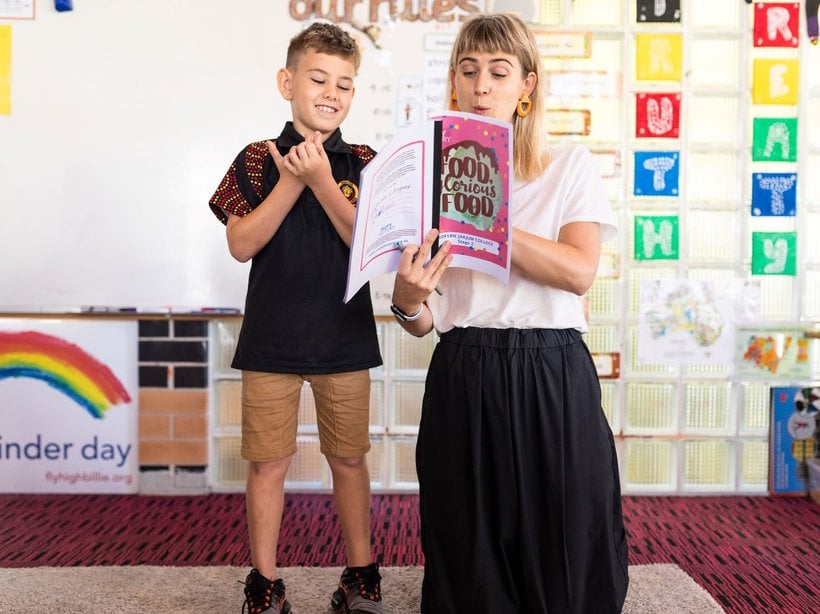 Diary of a Storyteller: Literacy and Learning
19 Aug 2021
This month we asked Tommie, our resident speech pathologist to tell us a little more about how she structures her workshops with primary school children.
Story Factory aims to foster a greater engagement with writing and storytelling in young people. We do this by placing emphasis on the student's ideas, and not just on their writing, and building confidence and pleasure in the creative process.
Many of our students battle with basic literacy skills and with not feeling confident enough to put pen to paper without questioning themselves. We now have a new position within our storyteller team with a particular focus on literacy and learning. – That's where I come in as an in-house speech and language pathologist and Storyteller. My role is to combine creative thinking and writing with fundamental literacy development across our primary and secondary programs.
Across Terms 1 and 2 this year, I've delivered a pilot program to three schools combining spelling instruction (or more accurately, helping students to have confidence with their spelling) with creative writing. The workshops incorporated activities that taught key early literacy skills before students began writing their stories.
The term and process of 'inventive spelling' was used throughout their writing time to encourage students to attempt unfamiliar words without slowing down. Our goal was to make sure every student in the classroom, at any range of literacy ability, was able to enjoy the workshops and improve their writing skills.
The workshops were great fun and a success, we had our young students reporting they were "awesome and great and makes me comfortable," and "I think it's cool because you can think of amazing things, like tricky words, that describe things to make it your writing better." We know now that developing spelling confidence is a key component of writing confidence in our young writers, and can see how successful our workshops are when we utilise this.
The continuation of literacy and learning in students is critical to our program's success and our students' engagement. We work very hard at Story Factory to maintain and grow student interest in writing throughout online learning and face to face learning, so they're always engaging in our best workshops ever.