Story Factory Digital is inviting schools across Australia to join us in our first nationwide poetry project – Prescription Poetry!
For years, people have known about the curative power of poetry. During this digital workshop, educators will enter your classroom via zoom to create a fun, safe and meaningful writing environment. Your students will then become Prescription Poets, writing original poems to alleviate all manner of modern ills, from worries about a big test to a broken heart. In the process, students will improve their literacy, explore their creativity and reflect on their own wellbeing.
Workshops run for an hour, with students leaving the workshop with a poem to add to their class anthology. All schools have the option to receive their class anthology as an eBook to be celebrated amongst the school community. 
We are offering this digital workshop FREE to both primary and high school classrooms across Australia. Selected works will then be published on our website, where the public can engage with the students' writing and send poetry prescriptions to their loved ones!*
*Conditions apply – privacy permissions strictly followed.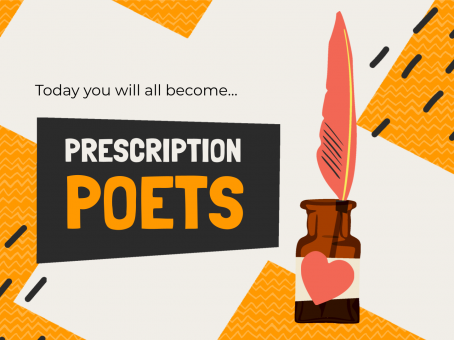 Are your students ready to become Prescription Poets?
Register to receive:
FREE live workshop with our expert Digital Storytellers

FREE resource pack, including a planning sheet and scaffold 

FREE eBook 

plus a certificate of completion. 
If you have any questions, please reach out to us at programs@storyfactory.org.au.
REGISTER NOW
Medicines and surgery may cure, but only reading and writing poetry can heal.
Story

Factory

Digital

Interactive digital workshops and teaching resources to help build writing skills, confidence and creativity in the classroom.

LEARN MORE