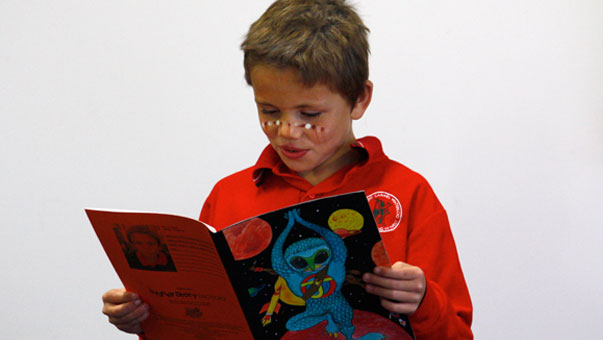 THE HERO AND THE MARTIAN
08 May 2012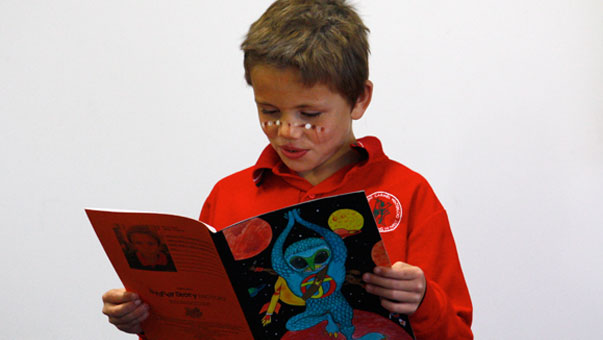 by Jaidyn Phoenix
'Hi, my name is Okumybokue.'
'Hi, my name is Oofer the Earthling.'
'I hate you,' said Okumybokue.
'I hate you too,' said Oofer.
'I need spare parts,' Okumybokue said.
'No, but only if you pay me,' Oofer said.
Okumybokue stole the parts from Oofer and ran. Oofer called the FBI. The FBI manager said, 'The best in the business is Jaidyn, he always saves the day. But Oofer is his sidekick.'
The Martian wants to trespass on Oofer's house. Jaidyn's job is to stop people who trespass on other peoples' property because if they do the person who lives there will be sad, so Jaidyn likes to help people who need help.
When the Martian was chucking his runner he hit the city, but Jaidyn came out of nowhere. Jaidyn tackled him down but the Martian still got out of it, but Jaidyn was too fast for him and smarter than the Martian.
At the end Jaidyn could not see the Martian. Jaidyn was angry at himself so he went outside. When he looked up he saw the UFOs going up into the sky. Jaidyn got an idea, he ran and jumped about forty metres into the sky and grabbed the bottom of the UFO. Another Martian was in it.
As the UFO rose into the sky Jaidyn climbed to the top of the UFO and saw a button on the windowsill. He pressed it and the glass went up and he jumped in. The Martian was like, 'How did you get in here?'
Jaidyn said, 'There was a button on the windowsill,' then Jaidyn punched the Martian and the Martian fell out of the window. Then Jaidyn saw another button, which he pressed.
The window closed before it hit space. He chased the big Martian's UFO. He saw a button that had guns. Jaidyn pressed the button and the UFO said, 'Aim where you want it to hit.'
Jaidyn aimed at the big Martian ship. He could not stop shooting. The Martian saw the bullets flying towards the ship but the Martian dodged all of the bullets that were coming towards him. The Martian landed on Mars.
Jaidyn shot all the Martian ships and they all blew up with all the Martians in them. Jaidyn saves the day once again.
When he went back where Oofer lived, Oofer said, 'Thank you for getting my parts back.'

Jaidyn Phoenix
Our Lady of Mt Carmel, Waterloo
"I was born in 2001. My birthday is October 22. I love my family. I'm a boy. I'm fast and I play football. When I'm older I'm going to be in the army."
Jaidyn wrote a story about a Martian coming to Earth at the Sydney Story Factory's first pilot program in 2011. His story was published in I Met a Martian and Other Stories, the Sydney Story Factory's first official anthology.