Art Write Light is a free creative writing project curated by Story Factory, that connects Australian artists with young people in an explosion of creativity over three colourful years.
This project creates opportunities for students to creatively respond to the work of living artists, and to each other, and for this to inform and enrich their approaches to writing and storytelling.
Art Write Light 2021
For our final year of Art Write Light we've gone out with a bang! We partnered with Sydney artist and legend Blak Douglas, a contemporary artist with proud Dhungatti Aboriginal origins, and connected him with high school students from Western Sydney.
Douglas's works are culturally & politically charged with a sense of irony & hint of sarcasm, perfect to inspire a year of writing with our lucky students. Students wrote in response to the Blak Douglas artwork below, inspired after visiting his fabulous studio and seeing many of his works in progress.
Their writing was incorporated into a light and sound installation at Story Factory, Redfern, alongside a new work by Douglas, written in response to their writing. You can read and listen to their work through the link below, and stroll through an online exhibition of their work created by Esem Projects.
Thank you to all our wonderful participating students and schools –
St Clair High School
Bonnyrigg High School
Cobham Juvenile Justice Centre
St Clare's Catholic High School
Camden High School
Home Education Network
Watch our Art Write Light documentary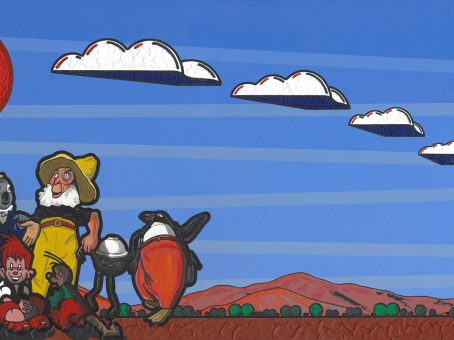 Little Miss Pronunciation
This powerful piece was painted in response to interactions with students during their studio visit, and their written pieces responding to 'Much is Rife' (below) and the ideas explored in that work.
'In this piece I sought to rejig the narrative and create a fun medley that spoke the truths behind the tragedy existing for First Nations peoples of the era. By ostracising the little Aboriginal baby often featured upon Brownie's plates, we create the prevalent 'us & them' story. All of the iconic elite characters distanced from the lonesome little bub, isolated and wondering why she can't play with that mob'. – Blak Douglas
ARTIST: Blak Douglas TITLE: Little Miss Pronunciation SIZE: 100 x 200cm MEDIUM: Synthetic polymer paint on canvas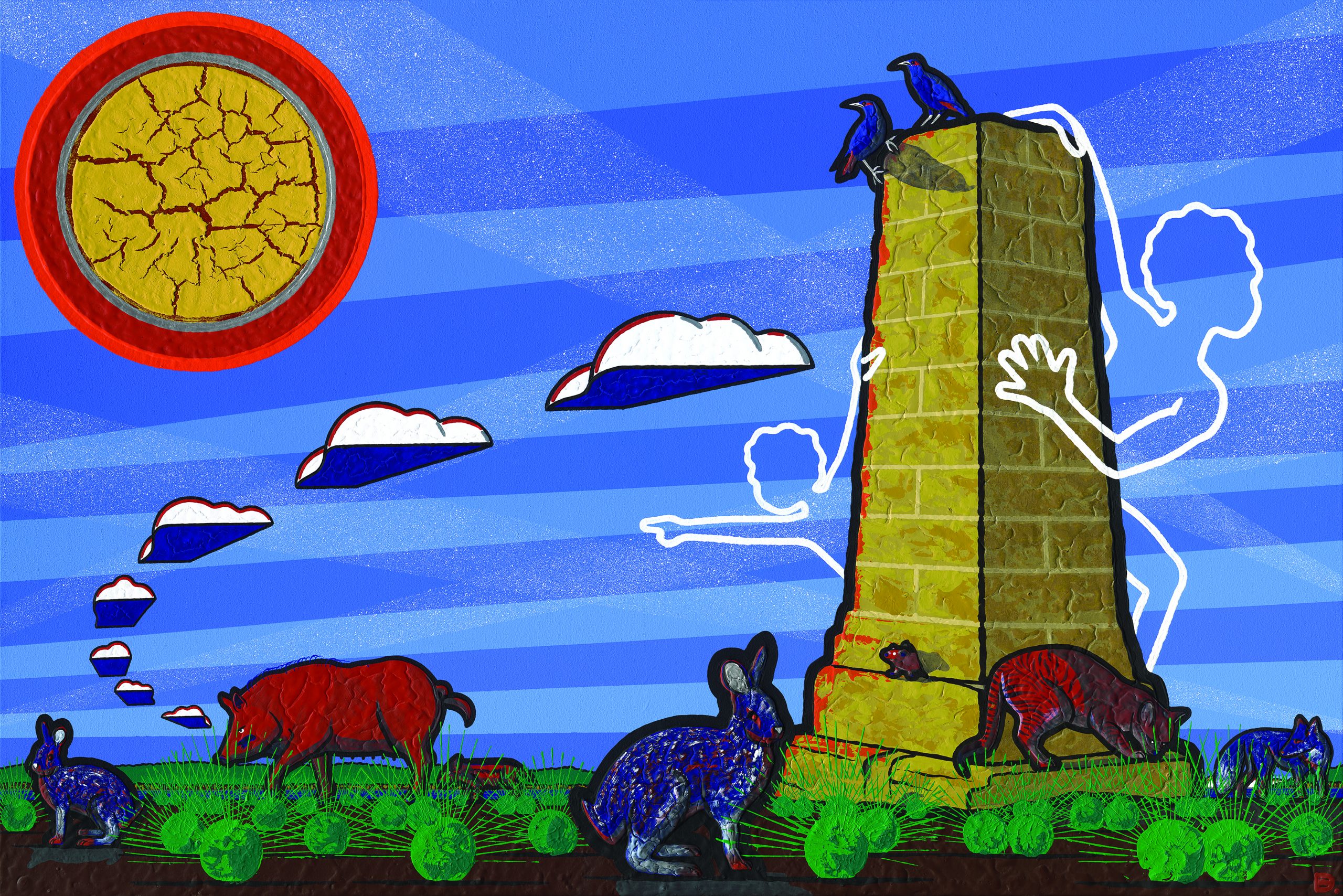 Much is Rife
Blak's unique vision of this country's history and current social inequities is an important one. Profound and robust in its delivery— the graphic nature of his practice, and attention to visual allegory and detail has captured the attention of collectors and curators throughout Australia.
That's why we were so thrilled to work with Blak on Art Write Light, and introduce our students to this work in our writing workshops.
ARTIST : Blak Douglas | TITLE: Much is rife | SIZE: 100 x 150cm | MEDIUM: Synthetic polymer paint on linen
Click through the button above to read student writing from Art Write Light 2021 in response to this painting.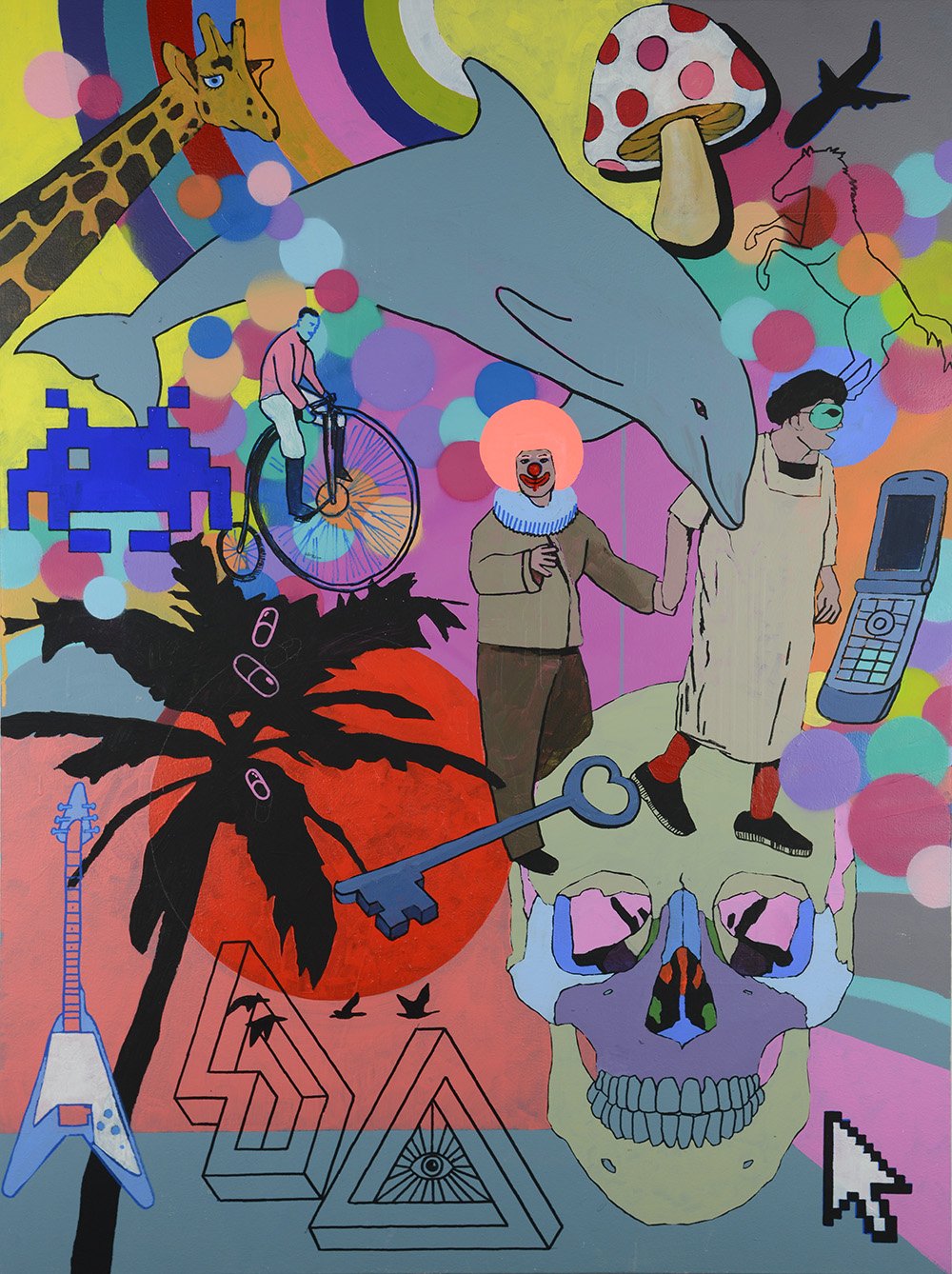 ART WRITE LIGHT 2020
For Art Write Light 2020, the multi-disciplinary artist Ernest Aaron created three original artworks exploring the fragmented and episodic nature of the modern world, using brilliant colours and pop-culture references.
This work was used as inspiration for students in a series of writing workshops in schools across Western Sydney.
Aaron shared his creative process, inspiration and artistic aims with students, to which students wrote a sequence of flash fiction pieces exploring and extending elements of Aaron's work.
A selection of work created by students in these workshops was featured in an installation and launch event held in November, 2020 at Story Factory Parramatta, created by Esem Projects.
The installation included a light-based installation of student writing and a second artwork from Ernest Aaron responding to the student writing created as part of the project, closing the loop of creative responses.
WHAT HAPPENED IN 2019?
In 2019 we partnered with Bangarra Dance Theatre choreographer and dancer Kaine Sultan-Babij, who created and performed a new dance work based on his family totem – the caterpillar. The students wrote about the performance, sharing their writing, which in turn formed the inspiration for another dance work from Sultan-Babij, which was performed at the project's completion alongside an audio-visual installation of the student's writing.
Interested in running a Program like this at your school?
If you're at a school serving high populations of under-resourced young people (FOEI above 100, or ICSEA below 1,000), contact us on info@storyfactory.org.au to express your interest.
To get a little taste of the Art Write Light program, these PDFs provide two outlines for two of the fun, engaging writing activities we take our students through as part of Art Write Light.
Teachers, you can download and print these at home any time, so you and your students can get writing and start imagining!
ACTIVITY TEMPLATE 1 – BEDROOM VISION BOARD
Art Write Light is generously supported by The Balnaves Foundation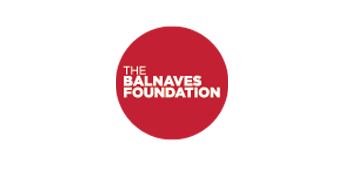 Stories from this Program