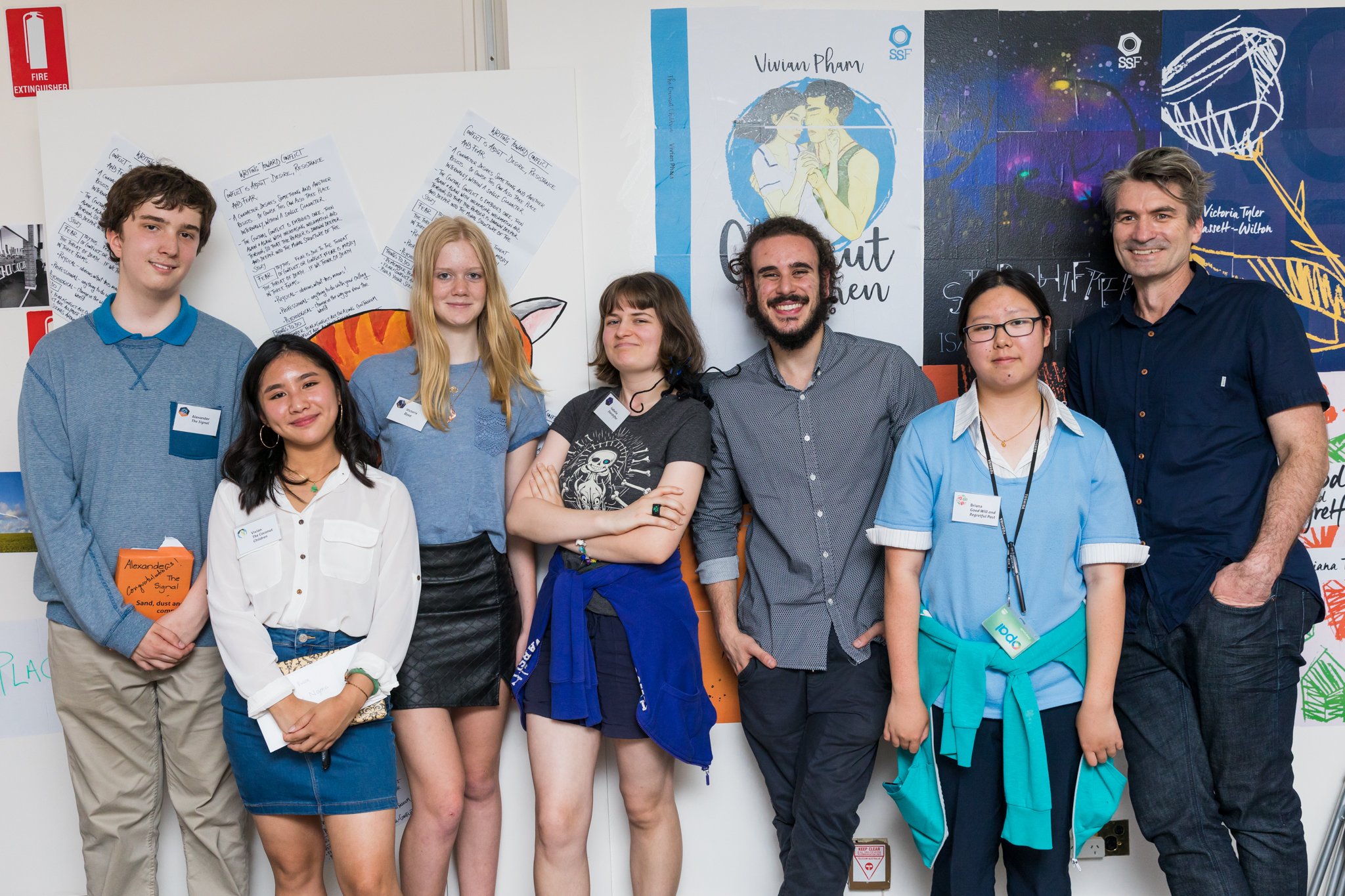 Six Sensational Novellas Launched!
10 Dec 2017
At the beginning of 2017, a group of brave young writers committed to taking part in the second year-long novella writing program run by Sydney Story Factory.
Their goal was to produce not just a fistful of poems, or a story, or a script, but a fully realised novella. And they aced it! Congratulations to every one of you!
Today we launched six awesome novellas. All six are available NOW via The Martian Embassy and Gift Shop.
Rose by Victoria Tyler Bassett-Wilton
The Signal by Alexander Lorenzon
Attempted by Annan Ahmed & The Thing by Bianca Valastro-Franco
Good Will and Regretful Past by Briana Terman
The Coconut Children by Vivian Pham
Starshifter by Isabelle Fischer
Congratulations also to three writers who have works in progress. We look forward to seeing your novellas in print too!
Jade Miller
Holly Trikilis
Stefanie Ruiz Diaz
At our proper, official, packed out launch Vivian spoke to all of us about the experience of writing a novella in one year. What she said impressed us and moved us. Here's just a taste:
Working on our novellas has taught us to listen to our own voices and trust that there's value in what we have to say. It taught us that stories can change the world, one person at a time. It taught us that stories can change the world, and the world begins with us…
Little did I know these strangers would become something like my own guardian angels. Their names are Richard, Bilal and Alison. They were our mentors, which is to say they cherished, and nurtured and believed in us so wholeheartedly that they left no room for self-doubt.
It was through them that we found the confidence to keep writing. To know that there are people like them in the world makes me feel safe. It reminds me that it doesn't really matter what has happened to you, it matters that you have enough faith in your story to tell it…
You can read Vivian's whole speech here.
Our novella launch was our first official event at the home of Sydney Story Factory Parramatta, pre-makeover. We had a huge turnout – thank you so much to everyone who came to show their support for all our amazing authors.
After we'd heard from Vivian, and each of our published novella-ists had read an extract from their books, Bilal, our storyteller-in-chief for Parramatta, who led the program with Richard Short (storyteller-in-chief for Redfern), wowed the crowd with a poem about the year-long experience. From the upstairs window, a la Juliet to Romeo. Of course. You can read Bilal's poem here.
Our launch got a write up on State of the Arts. Read Natalie Wadwell's article to find out what it was like to be there.
The South Sydney Herald also published an awesome interview with one of our brilliant young novella-ists, Alexander Lorenzon. Check out the full piece by Marjorie Lewis-Jones to see what inspires Alexander's writing.
And lastly a HUGE Thank You to everyone who helped and supported our novella-ists to bring their words into the world:
Workshop venue every Sunday throughout 2017 – Bankstown Youth Development Services (BYDS) allowed us to use Bankstown Arts Centre;
Volunteers, who worked alongside our novella authors every Sunday all year – Alison Lyssa, Minh Ai Nguyen, Tristyn Harrison, Anthony Hunt, Isabelle Whitington, Rita Khouri, Daniel Seneviratne;
Editors – Patrick Mangan, Catherine Hill, Mary Verney, Kathryn Knight, Sophie Ambrose, Alex Lloyd, Emily Bruce;
Typesetter – David Longfield of Longueville Media;
Proofreaders – Alison Lyssa, Amber Dalrymple, Cath Keenan, Bilal Hafda, Richard Short.
Sound system guru – David Glover.
The Year of the Novella 2017 was generously supported by the Aesop Foundation. Thanks Aesop!
Photos: Jacquie Manning