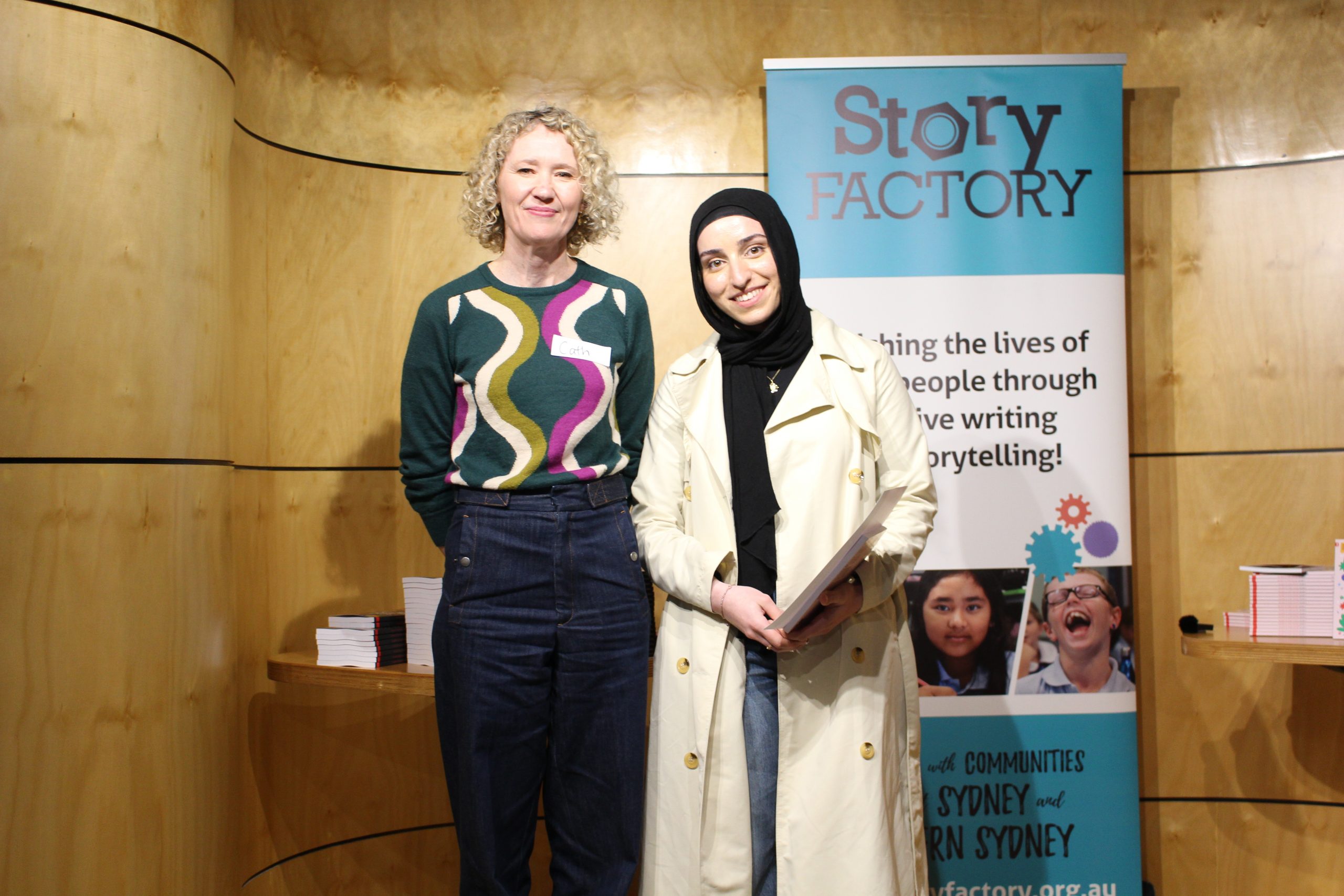 STORY FACTORY WRITING PRIZE ANNOUNCEMENT 
27 Jul 2022
The winners of the The Story Factory 10 Year Anniversary Writing Prize have been announced at an event at Story Factory Parramatta on Tuesday 26 July. Congratulations to all of the shortlisted young writers and to everyone who submitted their writing. There were 154 submissions overall and the judges were extremely impressed by the high quality of writing submitted by young people from all over the country.
The aim of the competition was to celebrate the voices of amazing young writers in diverse communities across Australia. The competition was open to young people who don't often see their world reflected in books and the media, and aimed to encourage students across the country to share their ideas. The theme of the competition was 'voices in the wind' and the stories, poems and non-fiction pieces that were submitted reflected the amazing range of ideas of young writers who all engaged with the theme in varied and interesting ways.
Story Factory Executive Director and Co-founder Dr Cath Keenan AM said: "We are so thrilled to mark our 10 year anniversary by celebrating the voices of young people throughout the country. At Story Factory our goal is to support young people to tell their own stories and the wide range of entries has been fantastic to see. The entries have ranged from the story of a waffle gaining consciousness, to the imagined voices of flowers and trees, to powerful reflections on grief. This competition aimed to celebrate the voices of young people who aren't heard loudly enough and we are delighted to be able to share their voices and perspectives with the world."
The judges commended all of the students for their hard work and noted the high quality of their writing. Twelve pieces were shortlisted in four different age categories and have been published in the special 10 year anniversary edition of The Best of Story Factory. Two pieces were chosen as the overall winners of the competition: Kindergarten Train by Eve Ballard who is 13 years old and is homeschooled in Queensland; and On Grief by Farrah Alameddine, 20 years old, who attended Birrong Girls High School and is an alumna of Story Factory's Year of the Novella program – a year-long after-school program in which young people write and publish their own novella.
The Judges said of On Grief, 'This story exemplifies what the best short fiction can achieve. The writing captures and holds your attention through the use of appropriate, effective language. Its main character is interesting, multi-faceted, and flawed, which makes them even more believable. The vocabulary is authentic, and moves across languages in an organic fashion, which builds the narrative and hints at a deep backstory in the fictional world they have created. An evocative, coming-of-age story set at the nexus of several personal and world events, exploring the spaces at the threshold of adulthood.'
The Judges said of Kindergarten Train: 'This piece is very clever, like a parody, and extremely sophisticated. That the writer has this level of mastery of language at such a young age is remarkable. The structure of the story is very strong, and the use of numbers throughout is a great red herring that builds tension, as the reader waits for the next number to appear. This story displays impressive close observation of the world. In form it is almost stream-of-consciousness and yet the internal logic is impeccable. We are very impressed.'
Full list of categories and winners:
Primary school students Years 3-6 ($200)
Voices in the Wind by Seanna Chung (Lidcombe Public School) – shortlisted
Voices in the Wind by Micah Paliatseas (Telopea Public School) – shortlisted
Waffle Man by Baran Dana, Lachlan Oliver, David Kereti, Jonathan Bulinaceva, Reece Bass (Willmot Public School) – category winner
Junior high school students Years 7-10 ($300)
Soil by Anhaar Kareem (Al Noori Muslim School) – shortlisted
Voices of the Mountains by Sonny Whittaker (homeschooled) – shortlisted
Kindergarten Train by Eve Ballard (homeschooled) – category winner and joint overall winner
Senior high school students Years 11-12 ($400)
Heart Shaped Chandeliers by Helayna Harris (Bomaderry High School) – shortlisted
My Mother Hears Me by Anushka Hadawle (Macquarie Fields High School) – shortlisted
Orange Vinegar by Mackayla Wong (Bonnyrigg High School) – category winner
Alumni of Story Factory programs ($500)
On Tutankhamun by Anna Krywyj – shortlisted
Eye, Summer by Duy Quang Mai – shortlisted
On Grief by Farah Alameddine – category winner and joint overall winner
The overall winners receive a mentorship opportunity with one of three writers: Eileen Chong (poet), Benjamin Law (non-fiction and script-writer) or Will Kostakis (fiction writer). The prize was judged by an expert panel of Radhiah Chowdhury, an author, audio producer and editor living on unceded Bidjigal Land in Sydney's south-west. She is one of the founders and moderators of the Australian First Nations and People of Colour in Publishing Network, and was the 2019-2020 Beatrice Davis Editorial Fellow. Eileen Chong, a poet who has been shortlisted for multiple awards, including the NSW Premier's Literary Award, the Victorian Premier's Literary Award, and twice for the Prime Minister's Literary Award. Isaiah T Soares is a young writer from Western Sydney who published two novellas as part of Story Factory's Year of the Novella program in 2020 and 2021.
The winners and shortlisted entries have been published in two special editions of The Best Of Story Factory which are now available to purchase via the Story Factory bookshop.
The Story Factory 10th Anniversary Writing Prize is generously supported by long term Story Factory partner, UBS Foundation.