Story Factory | Stories | Big Projects | Art Write Light | Art Write Light 2021 | When The Sun Starts Growling
When The Sun Starts Growling
By Ngoc My, Stage 5
Art Write Light 2021 is a  creative writing project curated by Story Factory, in collaboration with visual artist Blak Douglas. During the program, students from Bonnyrigg High School and St Clair High School were introduced to the work of Blak Douglas, and created written and audio pieces responding to his artwork. The audio you're about to listen to features a young writer from the program reading an extract from their work.
LISTEN TO THE AUDIO OF THE STORY
When The Sun Starts Growling
He stands there with his sword, this is his faith, he can't hide. They started to growl, as the war is about to begin.
Monologue
The sun used to be so immortal, gorgeous, but does it look that way now? I can't feel it, the feeling that I used to have, the joyfulness when I lay in the middle of the wheat field to look at the shining sun. I wish I could go back; go back to the time when I could still smile happily. It would be lovely if I could die now, but somehow, I can't.

You may think I'm just kidding, but I'm not. I'm immortal, I can't die, but I'm already dead inside. After what happened to my mother, I'm just too afraid to live, to count every second pass, to suffer every day with those pills. Nightmares come to me every night. It's not comfortable at all. I look in the mirror, splash tap water through my face, look at the mirror again. People say that I have a handsome face, deep blue ocean eyes with brunette hair, I look a little like my father, a mysterious man that abandoned my mother after she was pregnant. How ridiculous the man that I hate the most, seems to be there every time I look in the mirror. I miss my mother.
Maybe there's a way for me to die. I need to find out and end all of the sufferings. I walk to the town away from my farm, a ten-minute walk. I stand outside the library. I take a deep breath and walk inside. For the past three years, I've been looking for answers in every single book. Science, novels, even fairytales. Every genre that I can think of… but none of them included the answer I'm looking for. There are still a few more books that I didn't read yet. I don't really have hope in those books, out of thousands of books, the chance for my answer is not much.
"Tales of the worlds guardian"
Not very interesting, it's just another fantasy world with non-existence gods and goddesses. I open the book, just like I expected. Everything is untrue. I wonder about the Guardian of Happiness, where did she go when I needed her? The Guardian of Existence, the most powerful guardian on this planet. A guy or girl, I suppose. Do they really have a gender, I wonder? Anyways, they balance life and death on Earth and they're immortal. They're immortal! Just like me, every god can fade away after an amount of time but not them, the Guardian of Existence.
Actually, they're not completely immortal. They still can fade away but only when they pass their mission to another person. The only guardian who is able to have a child. When the other guardians fade away, the Guardian of Existence create a new one, but no one can create the Guardian of Existence, that's why they're immortal. 
I didn't finish all of the book, it has three thousand and thirty-three pages which is too long for the three hours that I had to spend on looking up about my condition. I walked home. Another nonsense day, I sat on my mum's favourite wooden chair, bit a piece of chocolate I found in the freezer. The sweet flavour slowly melted in my mouth, too sweet for a guy with a bitter life. I felt sleepy, I hadn't felt sleepy for a while. It was a pretty good sleep.
"Bean, Bean," a soft voice wakes me up.
Bean was my nickname. Only my mum knew this. She came up with this embarrassing name after I got a bean stuck in my nose. I looked at the woman that had successfully woke me up from a good sleep (and broke into my house).
"Mum?" 
I rubbed my eyes.
"Bean, my dear, I'm back."
"You died two years ago."
I stood up, looking for the mole on her chin. It's really her.
"Bean, I didn't die… I…"
"Where did you go for the past two years? WHERE DID YOU GO?"
Tears burst out of my eyes. I have questioned everything about me, am I now important to anyone? 
"I… I had to, Bean! I can't do this to you!"
She, my mum, put her hand on my face, looks directly into my eyes. She didn't change a bit, she always calms me but her hand was cold as ice.
"I went looking for hope, but there's nothing other than blood and screaming souls."
"Mum, what are you talking about?"
I wiped my tears.
"You need to remember when the sun turns red, and the moon disappears, the wars begin."
"Mum?"
"Where are you going?!" I asked when she headed to the door.
"You have to fix everything Bean, they have to pay!"
She smiles at me, her eyes say to me something isn't right. She opens the door and disappears, once again leaving me confused. 
Being immortal must be crazy but seeing your two-years-dead mum talking in front of you, you need to go to a psychologist. She tells me a bunch of weird things, and hoping for me to figure it out by myself? How?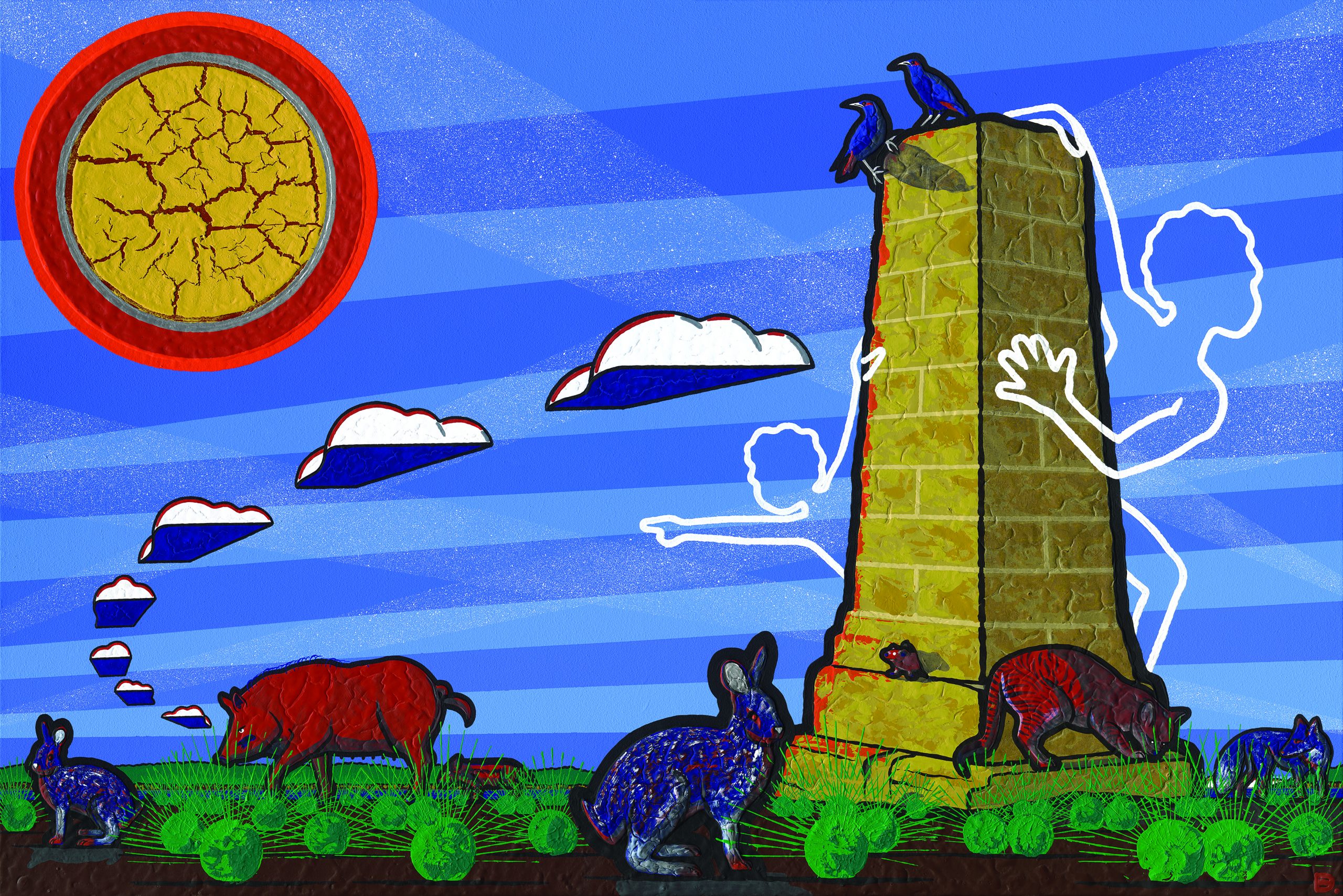 Much is Rife, Blak Douglas, 2021
Art Write Light is generously supported by the Balnaves Foundation.