Book Review: Adventure Time, VOL 1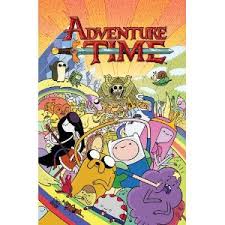 Book Title: Adventure Time, VOL 1Author: Ryan North Publisher: Boom Entertainment ISBN: 9781608862801
Reviewed by: Kalaish
When I found this book in the library, I was extremely happy. I had just become a big fan of Adventure Time, the television show, and I'd been watching the episodes on TV.
The graphic novel is about a teenage boy and a dog. They live in The Land of Ooo, and if you know anything about Adventure Time, then you know they have magical powers. The boy's name is Finn and the dog is Jake.
If you like books about princesses made of bubblegum, donut men, and a vampire with an axe guitar, this graphic novel is for you.
I recommend this book for boys under 13 and I rate it 9.5 out of 10.