Book Review: A Series of Unfortunate Events: The Bad Beginning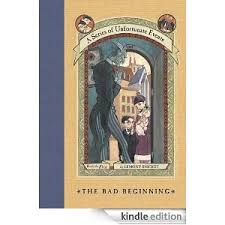 Book Title: A Series of Unfortunate Events: The Bad BeginningAuthor: Lemony Snicket Publisher: Harper Collins ISBN: 978-0064407663
Reviewed by: Marina
This book talks about three unlucky orphans who are constantly pursued by Count Olaf, a greedy and repulsive man who only wants the orphans' large fortune that they inherited from their parents when they died. Want to find out what happens? Read it!
The orphans are 14-year-old Violet, 12-year-old Klaus, and 3-year-old Sunny. Violet is a girl that likes inventing, Klaus likes reading very complicated books, and little Sunny likes to bite very, very hard things.
This book has an amazing number of books that follow this - there are 12 more books after this one! These books are fiction books and yet it is very realistic. I would warm people (just like the author does) that this book has horrors that people have never imagined.
I really like this book because it is surprising and I wanted to know what was going to happen to the orphans. Even though I've already read it, I want to read it again! I would recommend this book to people 10-12 years old.