One Perfect Day... In Rome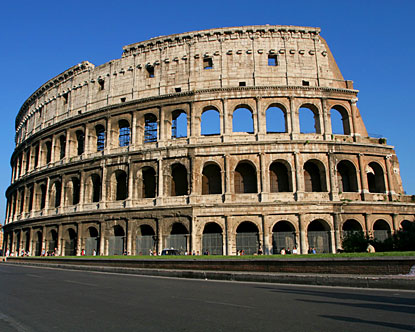 WRITE AROUND THE WORLD WITH HELEN BARRY - Young authors from The Sunday Writing Club describe their perfect day.
BY YOSRA DARAWSHE
Start the day with an appetising breakfast of refreshing fruit, and get prepared for a day of informative Roman history and mouth-watering food.
Your first site is located five kilometres away from your hotel. The Pantheon was constructed by Emperor Hadrian in 126AD as a temple in honour of Ancient Rome's pagan gods.
This unimaginably large concrete structure will amaze all who step foot in it. As a matter of fact, the origin of its smooth, marble floor remains an unsolved mystery to this day. Just remember to bring a camera along, because your visit will be a once in a life time privilege. Admission is free.
Around ten in the morning, a bicycle ride to the Colosseum is greatly recommended to experience the inspirational wonders of Roman street life.
The Colosseum was built for the entertainment of the Roman public in 70AD. The events held in The Amphitheatre were primarily about bloodshed and conflict between two or more trained slaves named Gladiators. Sometimes, wild animals were pitted against humans just for the fun of witnessing the deaths of criminals or beasts. If the gladiators seemed unconscious or not moving, two men dressed as Roman gods entered the ring, in order to make sure they were dead by burning them with hot pokers. Now, the Colosseum is a historic site for interested tourists and historians.
Around the Colosseum, you can identify a few pizzerias and cafes that can be excellent alternatives for lunch. No trip to Rome is complete without a meal of thin crusted traditional Margarita pizza.
The final trip before dinner is obvious to anyone: The Roman Forum. The Roman Forum was the centre of democratic power in the days of the Roman Republic. It was where the members of the senate came to negotiate and create legislation for the citizens of their great capital. More importantly, The Roman Forum was the site near the assassination of famous dictator Julius Caesar, by his fellow followers.
Having spent the day in the world's most admired city, people are sure to enjoy themselves with such distracting surroundings.
 About The Author
 Yosra Darawshe age 11 was born in Sydney Australia in 2001. Her parents come from Italy and Palestine. Yosra has a love of all things historic.