The Home Project is launched by the Governor and the Lord Mayor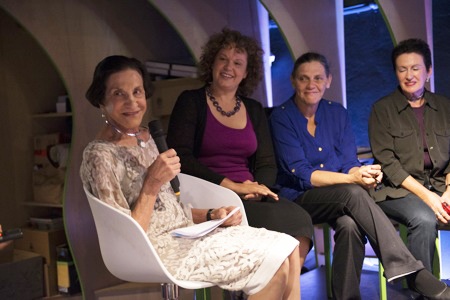 It was a great privilege to have her Excellency, the Governor of NSW, Professor Marie Bashir, and the Lord Mayor, Clover Moore, launch our Home project last Sunday afternoon, 27th October, 2013.  Joining them were actor Leah Purcell and long-time local resident Kathleen Pittman, who did our Welcome to Country. Home is our community writing project collecting memories and stories about Redfern/Waterloo, and it's being led by Cathy Craigie. Cathy led proceedings on Sunday and asked our special guests for their memories of this area. The Governor talked about how she and her sister went to Cleveland Street School, "when Australia wasn't as economically rich as it is now." "I used to hate having to wear shoes and socks and have vegemite sandwiches when the other children didn't have them," she said. "So we got as far as Clements Chemist shop on the corner there, near Cleveland Street School, and my sister and I would take our shoes and socks off and hide them, and we'd throw our lunch away. And we usually had a penny from Grandfather for lollies and we could buy fish and chips from the fish shop in Chalmers Street, like all the other kids, wrapped in newspaper...They were glorious days and some of those children are my friends to this day."
Leah Purcell reminisced about when she came down from Queensland and was living in a garage in Double Bay. She'd come over to the gym in Redfern when she wanted to see some black faces. She remembered being welcomed to this country by a small girl with her hand on her hip.
These stories and those from the Lord Mayor and Kathleen Pittman filled the room, and will go into the book of Home, to be published next year. We look forward to the many stories still to come! Our in-school workshops are already underway and our Sunday workshops, where older students interview locals, start this coming Sunday. Stay tuned for more.
Many thanks to the City of Sydney for supporting this project.
Photos: Tim da-Rin