Yabun Poetry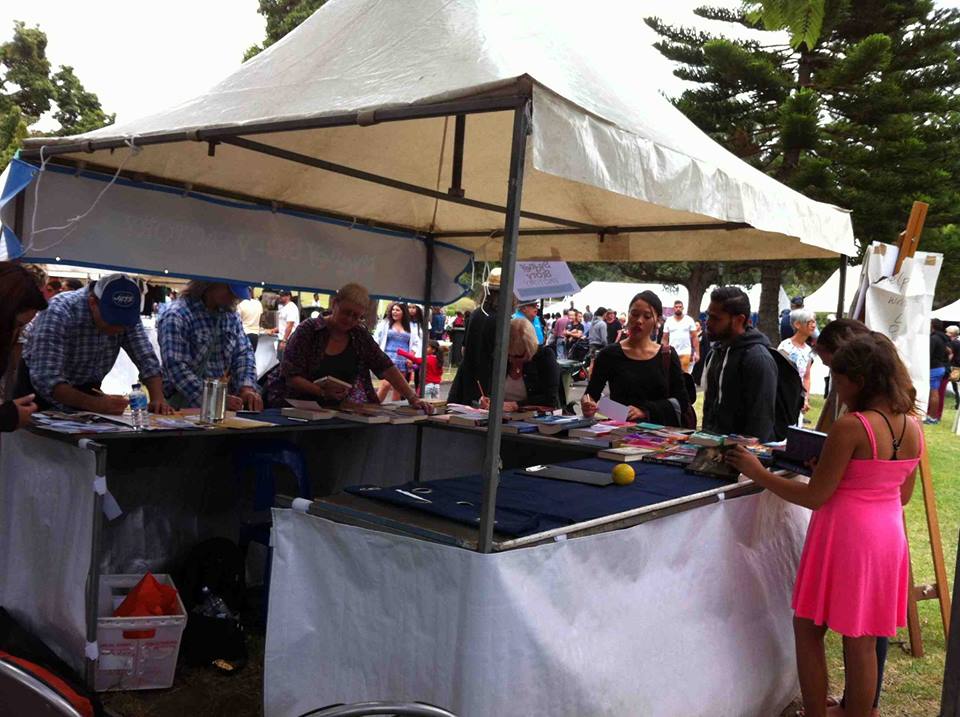 We had a great time at the Yabun Festival last weekend, collecting fascinating stories and adding to our ambitious World's Longest Poem (while we may not have reached those lofty heights, we're confident we at least collated Yabun's Longest Poem). Here's a single poem and an extract from the long poem as a sample of the beautiful writing that was offered up during the day.
REDFERN Redfern the black heart of Sydney
 Prince Alfred Park Yellow shade cloths Blue astro-turf Green grass New and beautiful
Mate Redfern Park Skin white and dark Pet pig charms the kids Food, footy, park and people Visiting dad and talking Smiling, learning, watching, growing
* * *
Voices of Yabun:
 Yabun – we love it – relaxing, mixing, Learning – our kids amongst real Culture – confronting, inclusive – our Annual shared event
 I love Yabun because we meet up, network for Aboriginal people. I'm encouraging my granddaughter to do this because it's an ancestral trait and rite
 Seeing people I know makes me happy Seeing Aboriginal fella's getting together and showing their talents makes me motivated
 I like Yabun because I like to look and pause Look at the stalls My favourite is the church stalls There were religious pamphlets
 I love the drums The smoke, the crowd The fabulous people You !
Today I'm at Yabun here Surrounded by m'mob I have no fear Lots of fun we'll have you'll see 'cause it's here I'm free to be me!
 You gave us lollies We forgot our brollies Thank you for providing a place Where we don't have to hang out With the wallies
 It's an odd day, this. For anyone who is at least a little bit awake. Doesn't matter. Nice to be back in the hood And nice to write it down It (this place and community) has made quite a difference to who I am, and Who I want to be
Yabun makes us realize how young our European culture is
 Today I am at Victoria Park with my best friend And it's so fun because today all our mob has come together Just like one big family Also everyone is welcome to come together as one!